French & English Summer Camps
Alpine French School runs a Junior Summer Camp during the school holidays (11th July – 19th August) with several different options, some of which are suitable for children schooled locally.

Morning lessons
French for children of other nationalities
our French courses cater for children learning French in school in their own country or in France who are looking for a little bit of a boost during the school holidays or to keep their French going during the summer break.
English for Anglophone children:
We also offer English courses for native English speaking children to bring their English in line with where they would be if they were studying in an English-speaking country.  Especially useful for English-speaking children being schooled in France.
Our team of English teachers were trained in the school system and have a wealth of experience of teaching English to all ages and to students with varied objectives, strengths and weaknesses.
English for children of other nationalities:
These English courses are designed for French children and children from other countries looking to improve their English during their school holidays.
From 4-year olds wanting to learn the basics to 18 year-olds preparing to go to university and needing a good level of English, we offer suitable courses for everyone.
Our experienced, native speaker teachers are trained as school and English language teachers.
Summer Camp Lessons
Your French/English lessons on our Alpine French Summer Camp will be fun yet educational, including games, songs and plenty of interactive group exercises.  Classes are taught by young, dynamic teachers who know how to keep summer camp learning entertaining and lively!
Lessons take place 9h-12h30 Monday to Friday with a 30-minute break.  Students will be fully involved in the lessons, playing games, creating projects, learning vocab and phrases that they can later use in real-life situations. Groups are often taken out into Morzine to put what they have learnt into practice, for example, they might learn some vocab and questions and then go to the market to buy a few items and test their French on the stall-holders.
We cater for all ages from 6-17 years old during the summer camp and students are split into groups with others of a similar age.  We also cater for all levels from complete beginner to advanced or almost bilingual.  Students are also divides into groups according to their language level.
As part of our summer camp, we also offer the option of GCSE/AS-level/A-level preparation courses.  These are a very popular option and run at the same time as the other courses for 15 hours per week.  Classes are taught by a teacher experienced in the exam requirements so students can improve their general level, learn exam tips and techniques to help them in the exam situations.  We also offer additional private tuition if required to work on specific weakness or skills.
The aim of all of our Summer Camp lessons is to complement and improve on what children learn at school.  Te main focus is on getting junior students communicating in French, having a go, gaining confidence in speaking and understanding why it is important to learn a language.  We also try and motivate students and make them see that learning a language is not only useful but fun too, which sometimes they don't realise when learning in a classroom back home!
Optional Afternoon activities
In the afternoon, our activity leaders organise activities such as sports tournaments, football matches and pétanque competitions (French bowls) in the lush gardens and sports pitches of the holiday centre. Some afternoons will involve beach volleyball and swimming at Morzine's great aquatic centre, or games and swimming at a local mountain lake. The mountain summers are surprisingly warm! During such activities, juniors get the opportunity to practise their language skills outside of the classroom and really bring the language to life. This is an essential part of language study which rarely gets taught in schools and awakens an interest in languages and other cultures!
Option + Additional Activities
Option+ Mountain Biking (3 afternoons per week)
Option+ Adventure (3 afternoons per week) Activities include white-water rafting, adventure park, climbing, mountain biking, summer sledging
Option+ Private French/English Classes (3 lessons per week)
Option + Tennis (3 afternoons per week)
Option + Horse-riding (3 afternoons per week)
---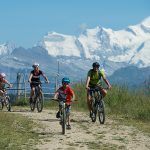 Our 'Family Camp' is one of our most popular options for parents and children to study with us during the summer season, but it's also the option that we get asked the most questions about! So we thought we'd put together a quick blog for the 'Frequently Asked Questions' and…
Continue Reading
---
---
---
---