Concerned about the Coronavirus? Contact us to discuss our new FREE CANCELLATION POLICY & book with peace of mind Contact Us
Top 10 things for non-skiers to do in Morzine
So you are coming to Morzine on a ski holiday but you don't ski? What are you going to do while your friends and family are up on the ski slopes? Luckily there is a wide range of activities in Morzine that you can enjoy during the day instead of skiing.
Sledging
Perfect for children who are too young to ski or snowboard, or for those who don't want to ski or snowboard all day. Sledging is permitted at the foot of the slopes on the Pléney side of the mountain behind the Matafan restaurant and the Aubergade Hotel/Restaurant.
Ice hockey or Ice Skating
Morzine boasts 2 ice-rinks, one indoor and one outdoor. The outdoor ice-rink is located at the tourist office square and you can hire skates and little penguins to help little ones stay upright. The indoor ice-rink is in the Parc des Dérêches next to the swimming pool and is the home to the Morzine Penguins ice-hockey team who play regular matches which make a great night out and a dramatic show !
Snowshoeing
Snowshoeing is a great way to enjoy the unspoilt mountains away from the crowds. Take a guided snowshoe trip and enjoy the crunch of fresh snow beneath your feet. An excellent way to get a bit of fresh air and a gentle workout.
For the more daring amongst you, you can do under-ice diving at the spectacular Lake Montriond ! Find your way with the help of ropes and explore the icy waters. Lake Montriond is the 3rd largest lake in the Haute-Savoie after Lake Geneva and Lake Annecy. It reaches a depth of 19 metres and is 1320 metres in length.
Throughout your time in Morzine, you will see people floating through the skies of Morzine paragliding. Get an aerial view of Morzine attached to a paragliding instructor who will steer you through the skies.
Spas
If you are looking for something more relaxing, Morzine boasts several spas where you can enjoy a massage, sauna, jacuzzi and a range of massages and other beauty treatments.
Shopping
Morzine has a great range of shops. Take a wander through the picturesque streets of Morzine and you will find shops offering lovely souvenirs, stylish casual clothing, ski and snowboard equipment and clothing, children's clothes, wooden toys, household goods, home-made chocolates, wine and much more.  Don't forget to visit Morzine's market on Wednesday morning in the Post Office square where you can taste local produce and shop for souvenirs.
Gym
If you are looking to do some sport indoors, try the gym at Mountain Rehab. Weekly memberships are available for holidaymakers and the gym is small but includes everything you need, including cardio machines, weights and much more.
Swimming
Morzine recently built a new indoor swimming pool which is a great place to go for a relaxing dip. With 3 pools (25m, children's pool and a splash pool), a sauna/hammam/jacuzzi area and a café, it is well worth a visit.
French Courses
Alpine French School offers a range of French courses to suit holidaymakers. Choose from an Intensive French Course with a 2-hour lesson each day from 9h-11h or private lessons. All levels and ages are welcome ! Our French teachers take great pride in sharing their love of the French language and culture with their students through fun conversational lessons.
---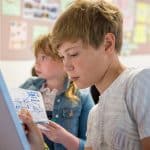 Lockdown has been a unique situation for all of us.  We have all had our own challenges during this time.  On top of this, many of us have had the challenge of home-schooling our children.  My children were born in France, they went to a French childminder (nounou) from an early…
Continue Reading
---
---
---
---