When is the Tour de France 2023 coming to Morzine?
On Saturday 15th July the Tour de France will arrive in Morzine. The Tour will depart from Annemasse on Saturday morning and head towards Samoëns. From there, the riders will have to conquer the winding road to the Col de Joux Plane, at 1691 m altitude, that separates the valleys between Samoëns and Morzine. Before a fast descent to the finishing line in Morzine (977m) from the top of the Col. 
With many keen road cyclists living and holidaying in Morzine there's always a hype built up around the Tour de France, and we have been lucky enough to have a stage start here last year and now a stage finish here in 2023. 
If you're planning to be in Morzine on this date, prepare yourself for an electric atmosphere as flags, bikes and decorations are hung around the town to create an amazing welcome for the Tour. There's sure to be celebrations taking place throughout the day, with a media frenzy in the centre of the town where the race will finish at the end of stage 14. 
This event is exciting for all – whether you choose to find a corner of the Joux Plane road (5 minutes from central Morzine) to spectate and see the riders flying past or if you prefer to wait at the finish line with a refreshing beer, the day is set to be a good one. 
Sounds like something you or your family would like to be here to see? Don't hesitate to get in touch with our team and book your Summer french course with Alpine French School! Early booking is recommended to secure accommodation over this busy period.
Check out our Summer 2023 Courses:
Family camps: https://alpinefrenchschool.com/junior-french-summer-camp/family-camp/
Juniors camps: https://alpinefrenchschool.com/junior-french-summer-camp/day-camp/
and Adults intensive courses here: https://alpinefrenchschool.com/courses/intensive-french-courses/
---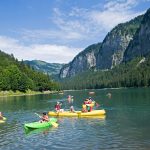 Summer in the mountains is a completely different holiday experience to your normal all inclusive beach holiday, in fact, it's better! Imagine – gorgeous views surrounding you, long days in the sun spent swimming in Alpine lakes or exploring the mountains on foot or bike, and finishing the day with…
Continue Reading
---
---
---
---