French Christmas Traditions
Discover some popular French Christmas Traditions and learn what Christmas is like in France
Advent calendars – les calendriers de l'Avent
French children open Advent Calendars like in many other countries during the month of December leading up to Christmas.
Postcards from Père Noël
Letters from French kids to Father Christmas always receive a response from Santa. Since 1962, France has had a law that stipulates any letter to Santa must be responded to in the form of a postcard. The law ensures that each child receives a reply to his/her letter to Santa making thousands of happy children each year! The postmen are happy to get into the Christmas spirit and deliver Santa's replies.
The nativity scene
In French this is known as the "crèche" and French families who have a nativity scene often really go to town with this and include all kinds of figures not just Baby Jesus, Mary and Joseph.
La Chandeleur
This is the 2nd February when nativity scenes are displayed until. This is 40 days after Christmas Day.
Le Réveillon de Noël
This is Christmas Eve dinner. At around midnight, French families eat a special meal to celebrate the very beginning of Christmas Day.
Père Fouettard
In certain regions of France in the past, the tradition was that Père Fouettard would accompany Père Noël to spank naughty children! This French christmas tradition is now somewhat outdated as it isn't in line with current parenting practice!
Shoes by the Fire
In other countries, the tradition varies slightly with stockings and nibbles and drinks for Father Christmas, but French children leave their shoes by the fireplace in the hope that Father Christmas will fill them with presents.
Christmas Dinner
Dishes might include roast turkey with chestnuts or roast goose, oysters, foie gras, lobster, venison and cheeses. For dessert, a chocolate sponge cake log called a bûche de Noël is normally eaten. Another celebration, in some parts of France, is that 13 different desserts are eaten!
La fêtes des Rois & La Galette des Rois
On January 6th, this is called Kings' Day, Three Kings' Day and Epiphany and in France, there is a tradition which means that French families will buy a 'Galette des Rois' which is a special tart and a small porcelain object called a 'fève' is hidden inside and the person who gets this in their portion is proclaimed the king (or queen) for the day and wears a pretend crown and can choose his King or Queen.
---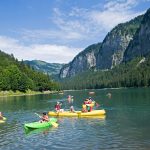 Summer in the mountains is a completely different holiday experience to your normal all inclusive beach holiday, in fact, it's better! Imagine – gorgeous views surrounding you, long days in the sun spent swimming in Alpine lakes or exploring the mountains on foot or bike, and finishing the day with…
Continue Reading
---
---
---
---