French Summer Camp in France: The Activities            
We are still taking booking for our French Summer Camp in France. One of the main things that people have questions about is the activities so we thought we would write a blog that could explain a little more aout the activities that we offer on our French Summer Camp in France and how we organise these!
Fortunately, Morzine is based in the French Alps and this is a great place to take advantage of some amazing adventure activities. One of the main reasons that people choose to come to our French Summer Camp is to try some of these outstanding activities….. We offer a 'standard' activity programme that is really anything but 'standard' ! From 14h – 17h30 every afternoon, our camp leaders organise a varied programme of activities that changes from week to week based on the ages and interests of the campers, events going on in the local area and the weather! From swimming, beach volleyball, hiking, water games, summer sledging, trout fishing, obstacle courses, spongeball, olympic games and much more, the activities are all designed to never leave a dull moment!
Activities are run in French, to get students using their French outside of the classroom and expanding their vocabulary. They are run and supervised by our qualified camp leaders who split campers into groups according to age and interests.
Many students also choose to upgrade to one of our Option Plus schemes. We offer 3 Option Plus schemes on our French Summer Camp: Adventure, Horse-riding and Private French tuition. The private French Tuition Option Plus can be combined with either of the other options.
Private French Option Plus includes 3 x 45 minute private French tuition and this is perfect for students who are attending our Summer Camp in France to prepare for an exam as they can work on specific areas that need work for their individual objectives.
Adventure Option Plus includes 3 afternoons of adventure activities. These are chosen by our Camp Director in conjunction with our Mountain Guides according to the ages and interests of the campers and also the weather and water conditions. Activities include climbing, canyoning, Via Ferrata, white-water rafting, mountain biking and adventure park.
The horse-riding Option Plus on our French Summer Camp includes 3 afternoons of horse-riding at our local equestrian centre. This is open to all levels, including complete beginners.
Students attending our French Summer Camp in France for more than one week often choose to vary their Option Plus schemes to add variety from one week to the next. For any questions about our activity programmes or about any other part of our camp, please don't hesitate to contact us on juniors@alpinefrenchschool.com
---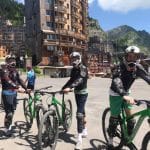 As I write this, we're currently in the middle of one of the busiest weekends of the year in the Morzine calendar. Harley Davidsons are racing past my window to head into the centre of Morzine to Europe's busiest Harley festival. The roads are also full of mountain bikers and…
Continue Reading
---
---
---
---