French Immersion Courses in France
If you are looking for a French Immersion Course in France, then it can be hard to know where to start!  There are a lot of different French Immersion courses on offer…….first of all, are you looking for a French Immersion Camp for teens or teenagers or a French Immersion Course for adults?
Alpine French School is a French language school located in the beautiful French Alps just over one hour from Geneva airport and we offer a range of French Immersion Courses for adults and teenagers…..
French Immersion Courses for Teenagers:
French Immersion Camps for teens are a great way for teenagers to make real progress in their French in a short space of time.  This is particularly important for teenagers studying French at school to prepare for exams such as GCSEs.  Being exposed to French 24 hours a day in France, makes a big change from studying for a 2 or 3 classes a week at school.  But it isn't just the time spent speaking, listening to and studying French that makes the difference.   When teenagers learn French at school, it is often a somewhat abstract subject that the majority don't see as useful or relevant to them.  Unless they have French friends or regularly visit France, they often don't see the point in learning it, especially when often the focus is on grammar and writing which isn't inspiring for most people nevermind teenagers!  Alpine French School offers a French Immersion Summer Camp which is designed to address all of these points to convince teenagers that learning French is worthwhile, enjoyable, useful and relevant….and as we know, when teenagers are motivated to do something, they do a lot better.
Teenagers at our French Immersion Summer Camp spend their mornings studying French in fun, interactive lessons where they also work on exam preparation with our qualified experienced teachers who keep up to date with GCSE and other exam syllabuses.  After lunch, they head out to enjoy a range of Adventure Plus activities conducted in French such as white-water rafting, mountain biking, climbing, canyoning, adventure park, swimming and much more.  In the evening, campers eat dinner together and are encouraged to try out some French conversation with our French native-speaker camp staff.  This is followed by evening activities (again in French), such as teenage discos, BBQs, ice-hockey matches or cinema evenings.  A meet and greet service is offered at Geneva airport and 24h supervision.  Get a real feel for the camp by watching this video of the French Immersion Summer Camp.
French Immersion Courses in France for adults:
If you are already beyond your teenage years, but fancy immersing yourself in French for a week or longer, then Alpine French School also offers French Immersion Courses for adults.  Morzine is a ski resort in the winter and a sports lovers' paradise in the summer.  With so much to offer, there is never a dull moment and students often fall in love with the town and come back time and time again.
You can choose from a range of courses, but a good base for your French Immersion Course in France is a Super Intensive French Course.  This consists of 20h per week tuition (usually group tuition in the winter or a mixture of group and private tuition in the summer but you can tailor-make your own course).  Add to this a choice of accommodation and activities and you can immerse yourself in French and have a great holiday at the same time!  In the winter, combine your Super Intensive French Course with skiing or snowboarding and in the summer, combine your Super Intensive French Course with a range of summer activities including hiking, tennis, golf, cycling, trail running, mountain biking, stand up paddle boarding, white-water rafting yoga and much more! Watch this video to find out more about our Summer Immersion French Courses
---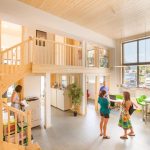 Did you book onto an intensive winter course at our school in Morzine? Well lucky you! During our lessons, we like to focus on conversation, which is complemented by those pesky grammar points and comprehension, but the ultimate goal is to get you to be able to communicate with French…
Continue Reading
---
---
---
---