Things to do in Morzine in the Winter
Winter Bucket list
Why visit Morzine this winter? The question should be, why NOT visit Morzine this winter?
With one of the largest ski areas in Europe on its doorstep, Morzine is a gorgeous alpine town that still functions year round while welcoming huge amounts of international tourists each Winter and Summer. We've decided to create a Morzine Winter Bucket List so you can make the most out of your Winter holiday and enjoy Morzine to its full potential! We also have hints and tips from our members of staff, so you can get the local insider knowledge about Morzine.
1. Fancy a day trip to Switzerland? If you have a Portes Du Soleil pass, you can access Switzerland via ski and lifts in around 30 minutes from Morzine, meaning you can ski in 2 different countries in a day – something to tell your friends back home about! The trip to Switzerland offers magnificent views, especially from the top of the Mossettes lift where you can see the mighty Dents du Midi in all their glory.
– Take the Super Morzine Telecabine from the centre of Morzine, then the Zore chairlift, ski down a gradual green run to the Proclou lift, take this and watch over the Chappelle snow park as riders do some tricks, then ski down the blue Prolays run towards the Lindarets bowl BUT follow signs for 'Mosettes' then take this long, breathtaking chairlift all the way to the top where you'll find the border between France and Switzerland. Here, you can stop at The Cookie Cafe for a quick beverage before skiing right into Switzerland. Spend the rest of your day exploring the Les Crosets bowl, then head back into France and ski all the way back down to Ardent to take the bus back to Morzine.
2. Enjoy the local cuisine! With delicious bakeries, a weekly fresh food market and more fondue restaurants than you can shake a stick at, Morzine is truly the place to be if you want to enjoy French mountain cuisine. After a long day of learning French and skiing you'll need to recoup your energy, and a fondue or raclette is the perfect thing for that. Lots of restaurants only serve fondues or raclette between 2 people, but if you're on your own or no one else fancies cheese, La Flamme restaurant next to the Super Morzine lift offers a great one person fondue
or raclette dish, with lots of veggie options too. Alternatively, try La Grange, La Chaudanne or La Chamade for local cheese dishes guaranteed to be delicious and locally sourced! For your morning croissant or pain au chocolat, we love Delices Folies, opposite the 'office du tourisme'. Finally, if you want to eat well while ON the mountain, Chez Nannon in the Nyon ski section of Morzine/Les Gets is a brilliant family run restaurant offering their speciality dish 'patates au reblochon' – literally a huge dish of potatoes and reblochon cheese. My mouth is watering
thinking about it…
3. Aprés Ski Sunset Descent! Let's set the scene – you've finished your french courses for the week and you're having a full day of skiing before you head home. The music is playing at the Folie Douce in Avoriaz and the atmosphere is great! As the music comes to a finish and the sun is slowly setting over the mountains you can ski down to finish your day and take in the golden hour. This is one of the most beautiful ways to finish your holiday, by skiing down to either the Super Morzine lift (taking a gentle green run, then an easy blue) or by skiing to the bottom of the Prodains lift via the blue 'home run'. From the Prodains lift, have a drink at the bottom and enjoy more live music at L'Adresse bar or take the A bus into Morzine to enjoy the nightlife there!
Don't hesitate to ask our friendly staff for recommendations or advice during your Winter holiday, and remember to ski safely and be conscious of others on the slopes. For more information on the 'Piste Code' and to refresh your ski manners before arriving in Morzine – take a look at the https://pistexcode.org/fr/#PisteXCode website, created by some incredible business women in Morzine and watch their video (and practice yourfrench): https://www.youtube.com/watch?v=JA9Gv6S1YuU narrated by our very own teacher Ségolène.
We hope to see you soon, à bientôt!
---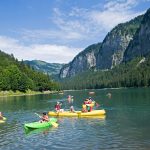 Summer in the mountains is a completely different holiday experience to your normal all inclusive beach holiday, in fact, it's better! Imagine – gorgeous views surrounding you, long days in the sun spent swimming in Alpine lakes or exploring the mountains on foot or bike, and finishing the day with…
Continue Reading
---
---
---
---