Thinking of taking a French course at the Alpine French School? Here is what your week will look like!
Did you book onto an intensive winter course at our school in Morzine? Well lucky you! During our lessons, we like to focus on conversation, which is complemented by those pesky grammar points and comprehension, but the ultimate goal is to get you to be able to communicate with French people!
On the Thursday prior to your arrival, you will receive all the details for your course, including our helpful student manual and events schedule. If you book accommodation or transfers through us, this will also be included in your email. 
Whether or not your course is taking place in the morning or afternoon, we strongly encourage all our students to come in the evening or stay after their course for our wine 'pot d'accueil'. It is an excellent opportunity to chat with your fellow students and our staff, form group chats for skiing and going-out and make long-term friends!
For all the early-birds at the school, you can expect some pains au chocolat in the morning when you come in for your 9am lesson.
Lessons usually take place in the afternoon from 4pm – 6pm. If you opt for the super-intensive, you will also join the 9am – 11am group.
In between, before or after your course, you are free to enjoy Morzine, be it ski, snowboard, go for a mountain lunch or anything you like – not a bad break!
If you are ever stuck on things to do, just ask at reception or consult our events page as we are always happy to recommend something.
For the following days you will be in the same classrooms that you were directed to on Monday – you will also receive a free folder with a couple resources and a place to put all the sheets that you might be given by your teacher.
In your arrival email, you will see a link to a resource called 'Padlet'. This is where your teacher will upload any materials that you have gone through during your lessons, as well as pictures of any outings that you do.
Speaking of, we like to take to the town for some lessons! Once a week you can expect to go out into Morzine to practise your French in real-life scenarios – cheese and wine tastings, markets, cafes, even mountains, you name it – we have been everywhere with our students!
We always appreciate your feedback – that's why at the end of your course, we ask you to fill out a feedback form that the teacher will pass onto our admin team so that we can optimise your experience. 
At the end of the week, it is time to say goodbye to all our lovely students – some may stay for a few more weeks, some are moving on, but our school is always open for returners, so do not hesitate to give our friendly admin team a call.
---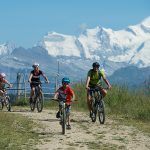 Our 'Family Camp' is one of our most popular options for parents and children to study with us during the summer season, but it's also the option that we get asked the most questions about! So we thought we'd put together a quick blog for the 'Frequently Asked Questions' and…
Continue Reading
---
---
---
---