5 reasons to book our French Summer Camp
Families across the world are finalising their plans for the summer break. With between 6 weeks and 3 months off from school, parents love to find interesting ways to fill the summer break with fun and educational activities to expand their children's horizons during their break from their structured everyday routine. So why choose a Summer Camp for your children? Children can learn and flourish in a new environment, experiencing different cultures, habits, a different way of life. It may not be as 'comfortable' fun as going on a beach holiday with the family, but it will certainly help them to grow more as a young person!
Broaden their horizons through travel
Travelling broadens our horizons and makes us look at the world differently. Children coming to our French Summer Camp get to experience life in the French Alps, a beautiful area of the world with stunning scenery, welcoming locals and a mix of mountain, lake and countryside scenery.
Improve their language skills
It goes without saying that the aim of a French Summer Camp is to improve our students' language skills. But we go about this in a way that is different from traditional school lessons….. we encourage students to communicate in French whether they are correct or not and to 'have a go'. We find that this approach helps them to understand why they are learning French rather than it being an abstract subject at school. Our students speak and hear French all day long, outside of the classroom: at mealtimes, during activities, in free-time periods and while we don't force them to speak French 100% of the time they are with us, they will certainly speak it a lot and will hear it non-stop!
Meet other children from different cultures
Children from all over the world attend our Summer Camp which makes for a great multi-cultural environment. Children learn about different places in the world, they learn to communicate with students of all different nationalities and make friends from all over the world J
Gain confidence through great activities
Children like to be occupied and entertained doing fun activities and we certainly do that during our Summer Camp. Take a look at our Activity Programmes to see what activities we offer. Students can choose from Discovery and Creativity, Adventure or Horse-riding so they can choose activities that are suitable for them and that they will enjoy. The activities are run in French by our activity leaders or qualified and certified guides. For those staying at the centre on a residential basis, we offer evening activities, free-time activities and weekend activities and excursions too!
Get to know an amazing area of the world!
The area around the French Alps is a stunning area of the world. Flying into Geneva, you will see the expanse of water that is Lake Geneva, or Lac Léman in French. Geneva is located at one end of this huge lake and there are many other beautiful towns and villages dotted around also including on the French side; Thonon-les-Bains, Evian-les-Bains, Yvoire and Excenevex. Just one hour from Geneva airport is Morzine which is in the Chablais mountains, a beautiful mountain range with views over Mont Blanc and the Aiguille de Midi from certain viewpoints. Certainly an area that people fall in love with and re-visit time and time again.
---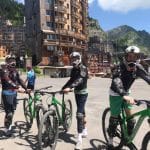 As I write this, we're currently in the middle of one of the busiest weekends of the year in the Morzine calendar. Harley Davidsons are racing past my window to head into the centre of Morzine to Europe's busiest Harley festival. The roads are also full of mountain bikers and…
Continue Reading
---
---
---
---