Concerned about the Coronavirus? Contact us to discuss our new FREE CANCELLATION POLICY & book with peace of mind Contact Us
What shall we do with the kids this summer?
So who else has just realised that next week it's June?! That means summer is just around the corner………. which means school summer holidays are nearly here!!!!
HELP! What shall we do with the kids this summer?
DON'T PANIC!
Alpine French School have thought of it all, covered every base, got you covered and have your back. You can pick from a range of courses and activities to assist your children/ young adults with either their introduction or progression of learning French, and where better to do it than in Morzine, French Alps, an amazing camp in a fantastic location.
Alpine French School French Summer Camp (Residential). This course is aimed at age range from 11-17 years old and is suitable for all levels of French. The students will be split in to groups of similar ages and language level (maximum of 15 students per teacher).
The French Summer Camp is not only designed for the students to get the most out of learning French, but also to make it fun. The young and dynamic teachers ensure that all the students are involved with all aspects of learning which can be vocabulary, phrases, songs and games as well as plenty of interactive group exercises.
If that doesn't sound exciting enough then read on! Did we mention the other activities such as canyoning, climbing , white water rafting and mountain biking?This year all of the Adventure Activities are included in the price.
The students will stay in the Summer Camp Centre which is specifically designed for children. An excellent standard of food is provided at the Summer Camp Centre on a full-board basis as well as picnics provided for the days the activities take the students further afield. (Please note most dietary requirements can be catered for.
What are you waiting for?
If you want to find out more, ask us any questions or just book please follow the link below.
https://alpinefrenchschool.com/french-alpine-summer-camp/
---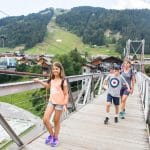 We were fortunate to be able to run French Summer camps in 2020 despite Covid complicating international travel.  Life in Morzine, like elsewhere in the world, has changed in the last 6 months.  However because the majority of Morzine's activities take place outdoors, we are very lucky that life has…
Continue Reading
---
---
---
---