* Book now for Winter 2023 at last year's prices - from just 199€ per week for an Intensive Course! * Enquire Now!
What is there for younger children to do in Morzine in the Summer?
Maybe you are looking at coming to visit Morzine in the summer but aren't sure if it's a suitable fit your family. You may be looking at booking our French Summer Camp, or maybe you are just looking at a family holiday in the area. Whether you are looking to enrol your children in the French Summer Camp or not, Morzine is a great place for a family holiday with plenty to do for children of all ages!
Morzine has a wonderful swimming pool complex with a 50 metre outdoor pool, a children's pool, a slide pool plus a larger waterslide. On top of this, in case of bad weather there is also a 25-metre indoor pool plus 2 children's pools and a nice restaurant with a terrace for sunny lunches. There are plenty of sunloungers and grass lawns for sunbathing plus beach volleyball courts and a playground.
In Les Gets, just 5 minutes' drive from Morzine, there is a Witbit park at one of the local lakes where children can jump and play on the inflatables making an assualt course in the lake.
Montriond Lake is a great place for a fun family day out. Just 5 minutes from Morzine, this lake is stunning with turquoise water and lined with mountain cliffs. Enjoy a walk or bike ride around the banks of this amazing lake which makes a loop of around 3km, have lunch or an ice-cream at one of the restaurants overlooking the lake, rent a paddle-board or a canoe, swim or paddle in the smaller swimming lake and check out the playground. Hours of fun for little ones!
In the Morzine valley, you will find the Parc des Dérêches which has lots to offer children! Bike rides, a mini adventure park, a playground, skate-park, tennis courts, sports pitches & horse-riding.
On the Pléney slopes, Morzine has a summer luge track. Grab a helmet and a sledge and take a chair lift up the slopes to the top of the luge track. Children under 5 must be accompanied by an adult in the sledge. Make your way down one of the 2 tracks to the bottom negotiating the steep sections and bumps by controlling your speed using the handle and brake. Adrenalin and fun!
From 8 years of age, children can have a go at white-water rafting on the river Dranse whose crystal clear waters leads down to Thonon from Morzine. After a safety briefing, you get kitted out in wetsuit and helmet before boarding the raft as a family and heading down the river rapids!
Half-way up to Avoriaz from Morzine is a charming mountain village called Les Lindarets or otherwise known as Le Village des Chèvres (goat village). This mountain village is home to goats who roam freely around the village and all over the roads! You can buy feed to feed them and watch them fight for the best or most food… There are also plenty of restaurants to get lunch (including many goats' cheese items on the menu) or a drink or an ice-cream. Head a little higher up to visit the plateau of Les Lindarets where children can play in the mountain pastures, paddle in the stream and watch the mountain bikers whizzing down the surrounding mountains!
And of course if you want your children to improve their French during their stay in Morzine, then take a look at our French Summer Camp with morning or day packages available.
---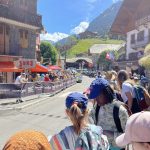 Summer 2022 feels like a long time ago, especially now we have snow in Morzine. But what a Summer it was!  Our Summer Camp kicked off with a busy week as Morzine hosted the starting stage of Le Tour de France and the bi-annual Harley Day's Festival. We managed…
Continue Reading
---
---
---
---