* Book now for Winter 2023 at last year's prices - from just 199€ per week for an Intensive Course! * Enquire Now!
The best ways to practice your French in Morzine
Whether you're an expat living in Morzine or someone just passing through on holiday or for an extended break, you might have decided that you want to improve your French. We've been living here, doing just that, for a long time and we have some top tips for you! We've been trailing all of the shops, restaurants, bars and tourist attractions to bring you our guide on where's best to go in Morzine to practice your French. You may have already signed up to one of our Intensive French Courses or private lessons which is great but it's essential that when you leave the safety of the walls of Alpine French School, you carry on practicing… and here's how!
1: The supermarket (Big Carrefour is great!)
Tie some essential French practice into your weekly shop! If you head to the big carrefour on the outskirts of Morzine you'll find a host of friendly staff who are willing to chat to you and are happy to simplify their French to help you out. You can also spend some time looking at the different foods and drinks to up your vocabulary. Similarly, the smaller supermarkets are super friendly and there's always someone who's willing and patient to chat to.
2: The Coup de Coeur
We love spending time at the Coup de Coeur wine bar and restaurant in the tourist office in Morzine. This fantastic bar has beautiful views of the Pleney and Nyon mountains and is perfect for a late afternoon drink. We also love it because the staff there are always willing to help you speak French. They don't immediately reply to you in English and are more than happy to help you if you're struggling to say something. Practicing your French may be the last thing you want to do after spending hours in the classroom on one of our intensive French courses, however having a cheeky gin and tonic or aperol spritz might make the sting out of it!
TOP TIP: Coup de Coeur means "blow to the heart"…a traditional French saying, pretty much meaning "love at first sight"
3: The boutique shops
There are lots of fantastic small, independent shops in Morzine mostly run by French people who have been here a long time. There are great little clothes shops, shops selling souvenirs, a beautiful chocolate shop and plenty of bakeries. These are great places to head to if you want to practice asking questions, listening to conversations or attempting to hold a conversation of your own. More than likely the people who own the shops will speak English but you'll usually find they're more than happy to help you along by speaking relatively simple French back to you. It's always nice to have a little browse as well!
4: The Bec Jaune, free language night
The Bec Jaune microbrewery is a great place to visit at anytime. It serves delicious home brewed beers and has a fab menu which has lots of choice for meat eaters and veggies. I'd advise popping there whether you want to practice your French or not! However, on Thursdays during the winter and summer seasons they also offer a free language night. You'll meet up with likeminded people who are looking to practice their French (and other languages) and there are dictionaries on hand to help you if you're struggling. Again after a hard day of studying on our intensive French course, the beer and delicious food on offer at the Bec makes it feel a little less like you're doing your homework and more like you're having a nice night out!
5: Our Social and Cultural programme and friendly French scheme
We understand that although classroom learning is essential when learning a language, there's nothing like putting it into practice for real to really further your understanding and development. That's why we've created our social and cultural programme. This winter you can sign up to a number of different things that will help you put your language to the test in a real situation. You could go on a French cookery course, try yoga in French or even have a traditional Savoyard dinner with a local family. You'll be amazed at how quickly you progress when you're entirely surrounded by French. Again, these evenings and activities are fun and unique, you won't feel like you're learning even though you'll actually learn huge amounts!
We have also teamed up with the Morzine Tourist Office to create a scheme to help you as you take your French into the real world. This "friendly French scheme" has recruited lots of local businesses, shops, restaurants and bars and they've agreed to speak French back to anyone who flashes a special business card to them. The card requests that the language exchange is carried out in French. Lots of amazing businesses have agreed to take part, you can see exactly where on our website.
---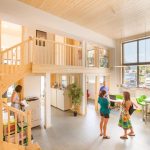 Did you book onto an intensive winter course at our school in Morzine? Well lucky you! During our lessons, we like to focus on conversation, which is complemented by those pesky grammar points and comprehension, but the ultimate goal is to get you to be able to communicate with French…
Continue Reading
---
---
---
---