* Book now for Winter 2023 at last year's prices - from just 199€ per week for an Intensive Course! * Enquire Now!
Summer in Morzine can be a very busy time with lots of activities to do as a family and a whole lot of events going on. Look out for these events taking place this summer while your children are enjoying themselves at our Summer Camp. They may well coincide with your holiday here in the Alps and you might even find yourself getting involved!
7-8 July – Spartan Race
The Spartan European Championship 2018 takes place in Morzine on 7 July 2018.  See the elite of this sport take part in this grueling event. Watch them tackle the trials around Morzine wading through rivers and over and under numerous torturous obstacles. Or even take part yourself! Try the Sprint, the Super or if you dare, the Beast!
8 July – 1 Day, 1 Col
For one day only, the Col de Ramaz is closed to traffic, leaving you free to cycle at ease along this impressive routes. There's even refreshments to welcome you at the top of the climb!
16-20 July and 11-17 August – Royaume des Marmots
Let Morzine entertain your children when they're not having fun at our Summer Camp. For 2 weeks in the summer Morzine turns into a Children's Kingdom. Prepare for plenty of free shows and workshops for all the family.
26 – 28 July – French Downhill Mountain Bike Championships
One for the mountain bike enthusiasts! Watch in awe as some of the best mountain bikers battle it out for the title of French National Champion.
8-9 August – Morzine Plage
Fancy a bit of beach action during your family visit to the mountains? For one weekend the town square is transformed into a beach with real sand, deck chairs, bouncy castles, children's workshops and live music. Sit back and relax!
11 August – Hauts Forts Trail Run
This run starts in Morzine and takes you along spectacular mountain passes around the summit of the Hauts-Forts, the highest point of the Portes du Soleil, to the finish in Avoriaz. The route traverses beautiful passes and up several steep summits. Remember to take in the stunning views along the way!
12 August – Morzine-Avoriaz Bike Climb (Grimpée Cycliste)
Challenge yourself on this notorious climb against Bernard Hinault's record of 33 minutes set back during the 15th stage of the Tour de France on 12 July 1979. An opportunity to practice your french learnt at Alpine French School with some of the locals! Alternatively, mosey on up at your own pace along the 14.6km route and 860m climb with an average incline of 6%!
19 August – 1 Day, 1 Col
This time it's the Col de Joux Plane which has its turn as a car free zone. Freely cycle along this challenging route taking in the impressive summer mountain views as you go!
---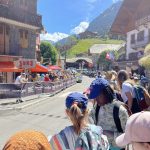 Summer 2022 feels like a long time ago, especially now we have snow in Morzine. But what a Summer it was!  Our Summer Camp kicked off with a busy week as Morzine hosted the starting stage of Le Tour de France and the bi-annual Harley Day's Festival. We managed…
Continue Reading
---
---
---
---