Concerned about the Coronavirus? Contact us to discuss our new FREE CANCELLATION POLICY & book with peace of mind Contact Us
Social life at Alpine French School on our French and Ski Courses
One thing many students are looking for when they come to Learn French in France is that they will meet other students who they can spend time with. They also want there to be social activities so that they can enjoy their time outside of the classroom.
Many students choose to stay in our shared apartment accommodation which is a great way to meet other students. Our apartments are of a good standard and students can choose from shared or single rooms, all of which are centrally located giving easy access to the school, facilities in Morzine and close to the ski slopes. If you are interested in meeting locals and spending more time in a French environment, then why not consider staying with one of our host families? This is a good choice for students less interested in spending time with skiing with other students and whose main objective is to really immerse themselves in French language and culture.
Students in our shared apartments spend time cooking, eating and socialising together. They get to know students from around the world and learn about different cultures. Often students ski and snowboard together if they are not taking skiing or snowboarding lessons. This is great if you are travelling alone as you make instant friends to spend time with. Often our French teachers will also join in the fun and join our students for drinks and dinner and sometimes a spot of skiing!
Morzine hosts many events during the winter, so there is never a dull moment. Rock the Pistes is a week-long music festival with daily concerts on the slopes. Snowboxx is another popular music festival that is hosted in Avoriaz every year. Live music is a regular feature in many après-ski bars in Morzine and there are also many skiing and snowboarding events to watch each season!
---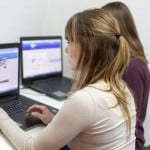 If you're thinking of ways to keep up your French or your children's French during this period of confinement, lockdown or social distancing, then you might have thought about Skype or Zoom lessons.  However, if you've never taken a virtual lesson before, then you may wonder what it's like and…
Continue Reading
---
---
---
---