Looking for English-speaking host families!
We're excited to let you know that we're launching a brand new summer experience for kids here in Morzine, a host family programme for French children and teenagers to stay with English speaking families to learn and improve their English!  In a typical year, many French children and teenagers travel to English speaking countries during their summer holidays to work on their English.  Because of Covid, this has become a lot more complicated so French parents are looking to send their children to learn English in France.
We're opening our attractive valley up as a destination for French children to come and work on their English; they can interact and learn with our English speaking families in a homely and welcoming environment.
If you would like to be part of this new experience, host families at Alpine French School are paid, and as an additional welcome bonus, we'd offer French lessons to our families. Contact us to find out more!
Key information:
Families need to be available between two and six weeks this summer

Summer dates are 04/07/2021 – 15/08/2021

Students are from 11-16 years of age
Children will be busy with English lessons and optional activities outside of host family life:
All children will take part in morning lessons from 9h00- 12h30 at Alpine French School, Morzine

Children have the option to join afternoon adventure activities 13h30-17h00 with Alpine French School

Host families provide activities during downtime.
---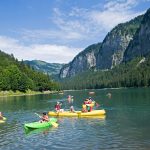 Summer in the mountains is a completely different holiday experience to your normal all inclusive beach holiday, in fact, it's better! Imagine – gorgeous views surrounding you, long days in the sun spent swimming in Alpine lakes or exploring the mountains on foot or bike, and finishing the day with…
Continue Reading
---
---
---
---