Concerned about the Coronavirus? Contact us to discuss our new FREE CANCELLATION POLICY & book with peace of mind Contact Us
Locals and Seasonnaires Discounts on all of our Courses!
So you want to learn French but don't have enough money? Alpine French School has been trying to think of ways to make our courses more affordable for local people! We have recently added a range of Budget French Courses which you can read more about here.
But what if you'd like to do one of our regular French courses but find them too expensive for you? Well, just like the locals' liftpass prices, we will be offering locals discounts on all of our group French Courses. We run 2 main types of group French Courses:
French Intensive Course
Our French Intensive courses take place every week during the winter and summer seasons and subject to demand during interseason periods. An intensive French course involves 15 hours of French a week – a great way to give your French a real boost in a short space of time! You study 3 hours per day with a 15 minute break in the middle. You will learn vocab, structures to help you to form sentences more easily, and do a lot of listening and speaking practice to get you really using the language.
Weekly Group Lessons
During the winter and summer seasons and subject to demand in interseason periods, we run weekly Group French Lessons. These courses consist of a 1,5 hour lesson each week for 10 weeks. This is the perfect option if you are working and want to do a little bit each week and have time to practice in between. Again the focus is on conversation and listening but you will also learn the vocab and grammatical structures you need so that you can form sentences.
Usually these courses cost 275€ plus enrolment fee.   For locals showing a work contract (can be with a UK based company as long as the place of work is Morzine) or other proof that you are working in the Morzine area, you will be able to get a huge discount of over 100€ and pay just 195€!
Contact us on info@alpinefrenchschool.com to book your place!
*Discounts not cumulable with training budgets
---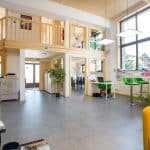 Super Intensive French Courses If you have time in November, why not give your French a real boost before the winter season?  Speaking French may be more important than ever this winter with the likely increase in the number of French tourists!  Take a Super Intensive course and you'll really…
Continue Reading
---
---
---
---