Conversation Classes 10€ per hour!
Being able to have a conversation in French is most people's number one motivation to take French lessons.
Why not take advantage of our special offer and get started with 5 hours' conversation course for just 50€ !
Elementary level:
21st September – 19th October 2021
Tuesdays: 11h00-12h00
Intermediate level:
23rd September – 21st October 2021
Thursdays, 11h00-12h00
The conversation toolbox
Regardless of your level, there are tools that you need before you can hold a conversation that is longer than a couple of painful exchanges!
Phonetics or pronunciation: the basics to make yourself understood and also be able to identify sounds and familiarize yourself with unreasonable so-called French pronunciation rules!
Listening skills: it's all very well to be able to speak some French but highly frustrating if you don't understand French people… The above pronunciation will help but also we can help you with practice and simple techniques to improve your understanding when people speak French.
Linking words: all those little words that you keep hearing and have no idea what they mean because they are the colloquial words that structure French conversation.
Vocabulary: well, let's face it, a lot of human conversation (well, French conversation anyway) is about giving your opinion, justifying why you did or said something, arguing, making a point, disagreeing (and sometimes agreeing haha!) and asking clear questions. You need this part for your daily French life!
Juggling with the tools!
Let's juggle with the tools in real situations and practice your new conversation skills.
Get real and face the situations in French with role plays
Have the opportunity to freely speak and have your French adjusted and corrected (whether it be pronunciation, structure, vocabulary)
Lead conversations on different topics
Initiate conversations with different roles, for example: I am the unhappy one OR I am the one dealing with the unhappy one.
Speak the French that French people speak!
---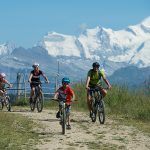 Our 'Family Camp' is one of our most popular options for parents and children to study with us during the summer season, but it's also the option that we get asked the most questions about! So we thought we'd put together a quick blog for the 'Frequently Asked Questions' and…
Continue Reading
---
---
---
---