Focus your brain for learning with our free meditation sessions
New from December 2021, Alpine French School is offering a little extra to help students.
Meditation is renowned nowadays for many things:
Reducing stress
Increasing focus and concentration
Increasing creativity
Helping to balance emotions
Reducing pain or perception of pain
Reducing anxiety and improving self-esteem
Reducing depression
Increasing memory
Some of these benefits are very relevant to language learning in addition to contributing to general well-being.  Meditation can also help students to exercise the parts of their brain that memorise, remember and recall information.
As adults, we aren't used to having to concentrate and learn in the same way that we were when we were children or young adults.  Short meditation sessions have been proven to help adult learners in many ways.  We often arrive at a lesson stressed from something that is happening at work or in our personal lives, we are busy and thinking about the hundreds of things we need to do after our lesson, maybe we also have things on our mind especially in these unusual times or perhaps we haven't practiced French or done our homework since the previous lesson! All of these things mean that our brains aren't in the right state of mind for learning!
Meditation is included as part of educational programmes in many countries around the world with proven benefits.
Therefore we have decided to offer a free option of 10 minutes of guided meditation before each lesson to prepare and prime students' brains for learning.  Meditation sessions will include relaxation to music, taking note of our breathing, learning to relax our bodies, positive visualisation…..the sessions will start in English and then transfer into French to prepare your mind for the language you are studying.
There is no obligation to take part in these sessions, or you can give it a go once with no obligation to attend before each session.
But why not give it a try and see how it affects your wellbeing and learning?
---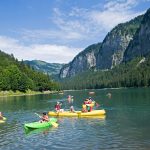 Summer in the mountains is a completely different holiday experience to your normal all inclusive beach holiday, in fact, it's better! Imagine – gorgeous views surrounding you, long days in the sun spent swimming in Alpine lakes or exploring the mountains on foot or bike, and finishing the day with…
Continue Reading
---
---
---
---