Learn French on a shoe-string
Budget Flexible French Lessons
Are you interested in learning French but on a tight budget? Is your schedule somewhat erratic so you can't sign up for a regular group slot? Then our Budget French Lessons could be the answer.
Designed to make your life easy and affordable, our Budget French Lessons were designed with our local students in mind. Often we get people who would like to join a group, but can't commit to a regular slot each week. Or we have people who want to pay as they go and not commit to a whole course from the outset.
The advantages of our Budget French Lessons:
Choose from 30-minutes or 1-hour slots
Book and pay online
Book one lesson at a time
Or buy a pre-paid credit to save money and then book each lesson individually using your credit
Same price for 1, 2 or 3 people……Share lessons with a friend for less than 10€ per lesson.
Training Budgets
If you are employed on a French contract or if you have your own French registered business (including auto-entreprenreurs), then you should be eligible for a training budget to cover the cost of your lessons !  Contact us for more information to find out what you would be entitled to and how it would work. Often you can use your training budget to finance a course of group French Lessons, Intensive French Lessons, Individual French Lessons or a combination of the above. Usually the training budget will cover 100% of the cost of the French course and under some circumstances your employer can even claim back the cost of your wage if you take your lessons during working hours ! It sounds too good to be true, but the reason behind this is that the French believe in ongoing professional training and development and this is a part of their work culture to develop the skills of the workforce in the workplace in areas related to their work.
---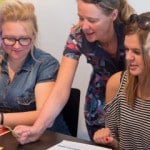 If you are here in Morzine for the winter and like many of us, you have some spare time on your hands, why not make good use of your time to work on your French! Alpine French School are running a variety of courses both at our school and online.…
Continue Reading
---
---
---
---