Concerned about the Coronavirus? Contact us to discuss our new FREE CANCELLATION POLICY & book with peace of mind Contact Us
Learn French and Ski Special Offer
Temperatures are dropping and winter is approaching fast! If you are thinking about booking a Learn French and Ski or a Learn French and Snowboard Holiday, then now is the time to do it…..
– Study and live in the heart of a beautiful vibrant ski resort
– Ski/snowboard every day, not just at weekends!
– Our school is located just minutes walk from a choice of cable-cars, in the heart of Morzine
With our Learn French and Ski package or Learn French and Snowboard package, your days will look like this…..
– Wake up to stunning mountain views, grab a coffee and a croissant on the walk to the ski-lifts to head up the mountain for first tracks
– Enjoy a full 4-hours' skiing or snowboarding
– Grab lunch from one of the cafés or boulangeries near your accommodation or the school
– Study French in modern interactive classes with like-minded students, enjoying a coffee break in our student lounge half-way through the afternoon
– Take part in on of our social/cultural activities after your lessons to meet other students.
– Enjoy après-ski and dinner with fellow students
– If you have any energy left, log on to our online multimedia centre to do a spot of homework before heading for bed to re-charge your batteries for the following day!
Our standard package starts from just 860€ per week and includes:
Standard Intensive French Course
Morzine-Les Gets ski-pass
Shared accommodation in a high-quality apartment
Unlimited access to our online multi-media centre
Access to our social and cultural activity programme
Special Offer: Book two places on this course and get the second for 10% discount :)
**Hurry, offer only valid until 15th November 2014
---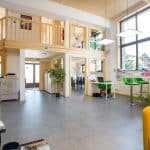 Super Intensive French Courses If you have time in November, why not give your French a real boost before the winter season?  Speaking French may be more important than ever this winter with the likely increase in the number of French tourists!  Take a Super Intensive course and you'll really…
Continue Reading
---
---
---
---