* Book now for Winter 2023 at last year's prices - from just 199€ per week for an Intensive Course! * Enquire Now!
Help your kids fall in love with the French language with a French summer school in the Alps
After English, French is the most studied language in schools around Europe. This means there's a whole heap of children trying to get to grips with this tricky language in classrooms all around the continent. Perhaps your child loves learning languages and finds understanding the conjugation of French verbs easy. Perhaps your child is struggling a bit in their French classes and just isn't enjoying them. Either way we can help your child fall in love with the French language at one of our Summer schools. And here's why…
Make friends
Doing a summer school with us means a week away from the parents. We have a fantastic summer school facility in a little village just outside Morzine. It has a pool, games rooms, cantine, amazing outdoor space, dormitories and a lot of space for the kids to have fun. Our activity leaders and staff are all young and enthusiastic with a great knowledge of games and sports to make the summer school week really fun and memorable. Whilst your child is with us, they'll meet other children their own age and forge friendships that last a lifetime. They'll be able to practice their French with these new companions and will associate the language with these amazing memories. It's the perfect way to make learning French a completely positive experience.
Make memories
A French summer school with us isn't just about learning the language. We fill our weeks with exciting activities that are only possible in our amazing part of the world. Swimming in alpine lakes, tobogganing down the side of mountains, rafting down our stunning river and jumping into our waterfalls are just some of the activities we offer to our students. This means children have an unforgettable experience on our summer camps and don't just feel like they've been sat in a classroom for the week. People from all around the world book their summer holidays to Morzine because of all the amazing adventure activities on offer, if your child comes to our summer school they get to try it all and also learn some French in the process!
Have fun
We make sure that amongst the educational side of our summer camps there's also an emphasis on fun. We know that children thrive in a positive and lively atmosphere so we try to create this in a number of ways.
we employ fantastic staff with outgoing and fun attitudes alongside experience in working with children in a summer school setting
We allow for free time and time to play and enjoy the school facilities
We arrange fantastic activities and sessions for the children to take part in
Have a holiday
Our summer camps take place throughout the school holidays and we understand it might be tricky to persuade your child to effectively "go back to school" for the week. However when you tell them what's involved and that the week is a basically a holiday designed just for them, then I think they'll bite your hand off to give it a go.
They'll fall in love with the French language after a week of fun with their amazing new friends.
---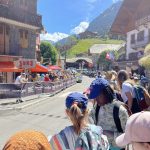 Summer 2022 feels like a long time ago, especially now we have snow in Morzine. But what a Summer it was!  Our Summer Camp kicked off with a busy week as Morzine hosted the starting stage of Le Tour de France and the bi-annual Harley Day's Festival. We managed…
Continue Reading
---
---
---
---