Give your French a boost before the summer with our June French Intensive Courses!
If you have a little spare time before the summer season kicks off, now could be the time to work on your French a little and give it a bit of a boost! We are running Intensive Courses throughout the month of June for all levels. Courses run in the morning, leaving you time in the afternoon for yourself!
We run Intensive Courses of different levels:
Elementary
Low Intermediate
Upper Intermediate
Courses run from 9h-12h Monday to Friday.
Each level will focus on speaking and listening skills, the idea is to get you using your French in a conversational context and practising as much as possible in a 'safe' environment to give you the confidence to speak French in your day to day life. Our teachers adapt their lessons to suit the objectives and interests of the participants in the group. They are on hand to answer your questions about any aspect of the language.
Our French teachers are all native French speakers who are qualified and experienced teachers. They are truly interested in ensuring that our students make good progress and they invest time preparing lessons of the highest quality to help their groups evolve and learn as much as possible during their French Intensive Course.
Our courses run with small group sizes, with a maximum of 10 students but the average is 4-6 students. This means that you will be involved in the lesson at all times, you won't be able to sit at the back and slack off and rely on others to do the work! Our lessons include individual, pair and group work so you will work on your French in lots of different ways with your fellow students.
Read more about our French Intensive Courses here
If you would like to find out more or book your place, please email us on info@alpinefrenchschool.com
---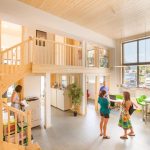 Did you book onto an intensive winter course at our school in Morzine? Well lucky you! During our lessons, we like to focus on conversation, which is complemented by those pesky grammar points and comprehension, but the ultimate goal is to get you to be able to communicate with French…
Continue Reading
---
---
---
---