Concerned about the Coronavirus? Contact us to discuss our new FREE CANCELLATION POLICY & book with peace of mind Contact Us
French Summer Camp in France: FAQs
Where is the Summer Camp?
Our Summer Camp is based just outside Morzine in Essert Romand. Morzine is a safe mountain town in a great setting with amazing activities on offer.  It is easily accessible from Geneva airport and the European rail network.
How will my child get to the Summer Camp?
If you are not bringing your child to the Camp yourself and your child is arriving into Geneva airport alone, you can take advantage of our airport Meet and Greet service. This means that an Alpine French School representative will be at Geneva airport to meet your child at any time on a Sunday. Children then travel up to Morzine on a transfer which takes about 1h-1h30 depending on traffic. For the return journey, students travel down to Geneva airport on a transfer and our representative will accompany them to check in and up to the security gates. This service can only be provided on a Sunday but at any time including early and late arrivals and departures.
Some airlines allow you to book an unaccompanied minor service which means that children are accompanied from the plane to our representative upon arrival and upon departure they are accompanied from the check-in desk to the aeroplane.  Easyjet allows 15 year olds to travel unaccompanied but do not offer an unaccompanied minor service.
What time should my child arrive at the Summer Camp?
For the Residential Camp, students should arrive on a Sunday late afternoon so that they can settle in before dinner and our welcome party.  Students depart on a Sunday morning around 9am after breakfast usually.
For the Junior Day Camp, lessons start at 9am so students should arrive just before then. Students who are only doing the morning lessons should be picked up at 12.30pm and those staying for lunch and the afternoon activities should be collected at 5.30pm.
Where shall we stay if our child is on the Junior Day Camp?
It is best to to stay in Mozine as there is loads on offer there. We run a shuttle from the centre of Morzine to the Camp in Essert Romand. The shuttle runs from the roundabout near the Super Morzine lift so you should try to stay close to there if you can.
Can my child stay for just 1 week on the Residential Summer Camp?
We recommend two week stays so that students get to participate in the activities and excursions during the middle weekend.  However we do accept one week bookings for students to arrive on the Sunday late afternoon and depart the following Sunday morning around 9am.  Another option is a 10-day stay which means that students arrive on a Sunday and depart on a Monday morning which allows students to take part in the weekend activites.
How many children are there at the Summer Camp?
In 2017, we had around 20-30 students per week on our Residential Camp and this number is likely to be slightly higher in 2018, with the most popular age-group being 14-16 years.  We also have a Junior Day Camp running where students attend 9h-17h30 and we welcome up to 50 students per week on this programme.
How are the students divided into different groups?
We ask parents for an idea of the level of their children on our Registration Form and based on this information and any other information that the parents provide, we divide our students into provisional groups.  On the first morning, our teachers carry out informal assessment activities so that the students aren't aware that they are being assessed, but the teachers are assessing their level while they work on various tasks.  Then we re-arrange the groups according to these evaluations. If at any time, students feel like they have been placed in the wrong group, they can talk to our teachers and the teachers keep an eye on all of the students throughout the week to ensure that they are in the right group (sometimes when they relax into their lessons they can improve so if this happens we move them!).
Do you have specific classes for children studying for GCSEs, iGCSEs, IB, AS or A-levels?
Yes, we run GCSE, iGCSE, IB, AS and A-level preparation courses as part of our French Summer Camp. The morning lessons that take place as part of the Summer Camp include groups that focus specifically on preparation for these exams with a focus on speaking and listening skills as we find that these are the areas that most of the students need to work on the most. The courses are taught by French native-speaker teachers who trained, and have experience of teaching in the UK so they are experts in how to best prepare students for these exams.
How much French will my child speak whilst at the Camp?
Students live and study onsite with our Camp Director who is a very experienced language teacher, summer camp director and organises daily life in the camp so that students speak a maximum of French throughout the day.  Our French activity leaders also live onsite and are fully trained in the language-side of our Summer Camp.  The afternoon, evening and weekend activities are all designed with a linguistic focus and campers are really encouraged to speak as much French as possible throughout the day.
Who will be supervising my child?
Students stay and study in a junior holiday centre designed for study travel trips for juniors and teenage groups.  The centre is managed by an experienced local family who have been welcoming school groups to the area for more than 15 years. Our activity leaders stay on-site in the student residence to supervise the students at all times, including during all tuition, breaks, activities and overnight. All of our staff are qualified to work with junior groups as activity leaders or language teachers.  Our accommodation and activities are all accredited by the French government (Ministère de Jeunesse et Sports) to welcome junior groups.
Will my child be safe whilst doing the afternoon activities?
All of our activities are run by fully qualified activity leaders who have years of experience of working with junior groups and these companies are very strictly controlled by the French authorities.  Our activity leaders are all trained in first aid and carry first aid kits with them and our Camp Director supervises the logisitcs of all activities and is on-hand in case of any issues.  There is a medical centre in Morzine near to our camp so we are well equipped to deal with any potential problems.
I would like my child to attend the Summer Camp but I would like to have some family time whilst on holiday as well!
If you want to spend some afternoons together as a family, then our 3-day Discovery and Creativity Option could be perfect for you. Book your children into a full-week of morning lessons from Monday to Friday 9h-12h30. Then on Tuesday, Wednesday and Thursday, they can join our Discovery and Creativity Activities leaving you Monday, Friday plus the weekend to spend together as a family.
---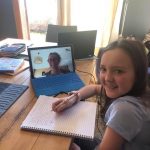 2020 is a strange year so far….it started off ok but with the distant news of a new Coronavirus and within 3 months, our worlds were turned upside down.  With a large part of the world's population in lockdown or quarantine, we have had to adapt to new working conditions,…
Continue Reading
---
---
---
---