Beginner Skiing in Morzine
If you have never skied before and are looking to spend a holiday, or perhaps a season in the french alps, you have a lot to think about. From what clothes you need, how many layers to put on, to equipment and overall fitness, the experience is definitely a new one.
I joined the Alpine French School team in June, and instantly fell in love with the mountains. Having never really been a mountain person, who tends to avoid any incline on my runs, I was ready to explore altitude. My goal during my stay in Morzine was to finally learn how to ski, and with the help of friends and local ski schools, I gave it a go.
My first lesson took place in Avoriaz, the day after the official opening of the slopes. We were met with particularly bad weather conditions and clouds, which meant that I wasn't exactly in my element as visibility was reduced. Peak snowsports however gave me the confidence to feel at ease on the slopes! Beginning with the basics: how to get on your skis, how to walk in them and join a chairlift queue, I appreciated being taught the basics. To my surprise, I was told to leave my ski poles behind! The only thing I thought will keep me tethered to the ground, was now left by the Prodains bubble. My fears were unjustified though – I was introduced to the snow plough and the basics of skiing. I'm glad to have left my poles behind, as I focused much more on my technique and recovering my balance, instead of jamming them into the snow in a panic.
Within the two hours, I went from never skied to being able to snow-plough a green, use a chairlift and button lift. The real test was skiing down a blue piste to find ourselves back at the prodains lift. I'm glad I was challenged, and despite it being a difficult piste for me, I felt completely safe with the guidance of an experienced ski instructor.
Following a few healthy falls and slips, we ended our lesson with some tips on how to improve, and what the next steps would be. I felt equipped with a good foundation on which I will build my skiing.
The next day with Supreme snowsports, this time in a small group of 4 people was equally insightful. Starting to build up on previous knowledge, the instructor guided us through different lifts and slopes. Although being a group lesson, we were all given enough attention, and all personal strengths and weaknesses were addressed accordingly. After a quick pit stop at the Folie Douce and a well-deserved boogie, we skied down the blue piste back to Prodains feeling much more confident!
A week later, the Morzine/ Les Gets area opened – the dedicated beginner area. I met PDS snowsports at the top of the lift, and made a breakthrough as we looped the magic carpet (small lift that attaches to your skis and pulls you up a gentle slope) and practised parallel turning. Now this is where it all fell into place, and with the basics I was taught the week prior, we were able to do some relatively competent skiing down the Pleney blues and look dazzling on the slopes.
My last lesson with ESF, a french company took place the day after, also on the Pleney. Enrolled as an intermediate, my previous experience naturally carried over, and even in a group, we seamlessly built up our individual skills whilst looping some more blues. ESF are also bilingual – they speak both French and English during your lesson, so no matter your French level you will understand what instructions they give you, and maybe even help you out with your language learning! ESF courses run Sunday to Friday, so by the end of it, you come out a much more competent skier!
At the Alpine French School, most of our students ski or snowboard in between classes, so you must give it a go! We can book your lessons directly with ESF, group or private depending on your needs. Alternatively we recommend all the ski schools mentioned in the blog in case of lack of availability or if you wish to take a different route.
Whatever your level and experience, you will have a great time in the beautiful Portes du Soleil domain and a magical holiday. If you do not choose to ski, there are plenty of non-ski activities you can do, just drop us an email if you are looking for recommendations!
---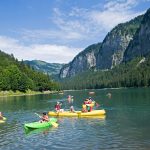 Summer in the mountains is a completely different holiday experience to your normal all inclusive beach holiday, in fact, it's better! Imagine – gorgeous views surrounding you, long days in the sun spent swimming in Alpine lakes or exploring the mountains on foot or bike, and finishing the day with…
Continue Reading
---
---
---
---