Annelie our French Summer Camp Assistant
So what does Annelie, the Reservations Assistant do in her spare time when she's not at the Alpine French School?
She plays netball…. And she plays it well!!
Here's a snippet of the recent Barcelona Tour that the Morzine based Valley Vipers Netball Team entered in June. Vipers were lucky enough to be able to field two full teams. The team travelled on Friday and returned Monday with an extremely busy 2 days of non-stop netball in between. There were 16 teams, mainly clubs from the UK who were all there to play netball and have a laugh with their team mates and the other teams. Apart from a University Club who's main aim seemed to be winning "who could stay out the latest award" and "who was the drunkest" award…. Although they shall not be named as we stick to the "what goes on tour stays on tour" rule!
Having had a nice relaxing afternoon on the beach on Friday the rest of the Valley Vipers waited for 3 team mates. One was travelling from the UK and 2 others who got a later flight (Annelie being one of them)….. that's how dedicated she is and how much she loves her work at The Alpine French School. One Vipers Team got the Saturday morning slot and the other the afternoon, so the teams were able to support each other in all of the games. The matches were 7 minutes each way, with a straight turnaround at half time. It doesn't sound that much, but after 7 matches almost back to back…. And in the heat. The teams were feeling it, I am sure. And the same again on the Sunday…. we were all definitely ready for a Mojito and a beer or 2 on Sunday evening.
The two Valley Vipers Teams ended up being drawn to play each other in the semi-final of the plate….. and what an end to end game it was. Both Vipers teams deserved to get to the final, but sadly there could only be one winning team…. The good news is…. The winning Vipers Team went on to win the final after another exciting end to end game. The Vipers Squad were ecstatic with the win and how everyone came together and the teamwork shone through. What a weekend.
So…… Annelie, Reservations Assistant/ Netball Champ
---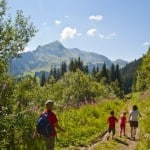 Why not visit Morzine during the next half-term holiday and enjoy learning French as well as enjoying the great mountain activities that Morzine has to offer! New, this year (2021 – 2022), we offer family French day camps in the school holidays : October half-term, Christmas & New Year,…
Continue Reading
---
---
---
---