Concerned about the Coronavirus? Contact us to discuss our new FREE CANCELLATION POLICY & book with peace of mind Contact Us
5 interesting facts about Morzine
Morzine Interesting Fact Number 1
Morzine's economy was based around agriculture and slate-mining until the Grand Hotel was built in the 1920s and when the Pléney cable-car was built in 1934. This opened up the area for summer visitors initially and then subsequently skiing became more popular in the area. At first the Pléney cable car only transported hikers and mountaineers.
Morzine Interesting Fact Number 2
In 1960 Jean Vuarnet won the Winter Olympics and was placed in charge of making Morzine into a ski resort. In 1960 the Nyon cable-car was built and in 1961 the Avoriaz cable-car. He then went on to develop Avoriaz as a ski resort. The Avoriaz architecture was designed to blend into the cliffs that it sits on from afar.
Morzine Interesting Fact Number 3
In 1862, the first road was constructed out of Morzine to link Morzine and Thonon les Bains, now a 30-minute drive away from Morzine on the banks of Lake Geneva. Before this, Morzine was an isolated agricultural town.
Morzine Interesting Fact Number 4
Morzine has hosted the Tour de France several times, partly thanks to it being based at the foot of the famous Col de Joux-Plane climb with sections over 10% making it one of the most challenging climbs in the French Alps. Morzine was the finishing town of the 2003 Tour de France's first mountain stage. The Tour de France also visited Morzine in 2016, 2010 and 2006. It has also hosted the Etape du Tour where amateur cyclists get to tackle a stage of the Tour de France on a separate day to the pros!
Morzine Interesting Fact Number 5
Morzine is part of the Portes du Soleil ski area which is one of the largest ski areas in Europe. With over 600km of pistes and spanning 7 French and 5 Swiss ski resorts, the Portes du Soleil offers extensive skiing for skiers of all levels. The area is lower than some of the other renowned French ski areas, but the local micro-climate from Lake Geneva (Lac Léman in French) means that the area received substantial snowfall during the winter months of November to April.
---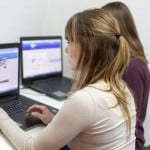 If you're thinking of ways to keep up your French or your children's French during this period of confinement, lockdown or social distancing, then you might have thought about Skype or Zoom lessons.  However, if you've never taken a virtual lesson before, then you may wonder what it's like and…
Continue Reading
---
---
---
---