Spend your next French summer holiday in Morzine!
Being in September and easing into interseason work, the AFS team wanted to reflect on summer 2022, and what a summer it has been!
Following our extremely successful juniors summer day camp, adult intensive group courses as well as weeklies and private lessons , we are pleased to have met some AMAZING families and travelers from all over the word who (lucky for them) have chosen our lovely Morzine in which to spend their French summer holidays!
You can read our google reviews in your spare time. Here are some anonymous reviews we received from some of our secret admirers ;) Each student receives a feedback sheet where they can tell us their thoughts and evaluate our services. This is extremely important to us as we value your feedback!
«Je me suis amusé beaucoup pendant la semaine et je me sens que j'ai appris des informations utiles qui pourront améliorer mon français avant la rentrée en Octobre»
«J'ai appris beaucoup avec Marine! Je pense que j'ai appris plus en 2 semaines que dans 4 ans d'école. Les jeux étaient très drôles et éducatifs.»
"It was a very interesting, interactive and appropriate course, set in a very beautiful town of Morzine. The beginner class had a very good curriculum and taught the basics. I liked the teacher being flexible but helping individuals with care? Elise was a very experienced teacher with various experiences. I'd like to come back and continue sometime soon! Merci!"
This year was especially great as Morzine hosted the Tour de France! We had an AFS spy spend the day in the village documenting everything for you guys on social media. Both the adults and the kids loved seeing the cyclists race!
Morzine also hosted the Harley Days! It saw the legendary Status Quo perform LIVE, and the town was filled with astounding bikes and rock music.
For the keen hikers the bubble and chairlifts did not stop running, allowing tourists to wander the alps with no limits. Our students especially enjoy spending their weekend by the Montriond lake, swimming and paddleboarding whilst consuming ungodly amounts of ice cream from the nearby cafes.
With great weather and a myriad of activities, we will miss these warm days in our classrooms. Combining a summer holiday with language learning is the perfect solution for anyone seeking an active holiday and wanting to learn new skills. It is never too late to learn a language, and what better place in which to do it than our beautiful town.
A l'été prochain tout le monde!
---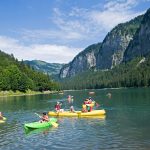 Summer in the mountains is a completely different holiday experience to your normal all inclusive beach holiday, in fact, it's better! Imagine – gorgeous views surrounding you, long days in the sun spent swimming in Alpine lakes or exploring the mountains on foot or bike, and finishing the day with…
Continue Reading
---
---
---
---