Concerned about the Coronavirus? Contact us to discuss our new FREE CANCELLATION POLICY & book with peace of mind Contact Us
What's new for 2020 at Alpine French School
What's new for 2020! Juniors:
At Alpine French School, we are continually striving to improve our service and offer new products to our customers.
For our Junior Summer Camps, we have a new premises in the centre of Morzine which is a local primary school during the academic year, a perfect building in a perfect location for our Summer Camps.  We also have a new restaurant providing a child-friendly menu to ensure our students have enough energy for all of the great activities we offer!
For our Residential Students, we have a new residential centre in Morzine where students who are staying on our overnight camp will stay.  This means that students can walk into Morzine and have easier access to activities.
We have also improved our activity programmes to make our activities more attractive for all of our students!
For local expat families whose children are schooled in French, we are offering a new Discover and Inspire programme to offer them educational and fun workshops in English during their Summer Holidays.  Read here for more information…..
What's new for 2020! Adults:
Alpine French School is undergoing some audits to continue and improve on its status as a Professional Training Centre in France.  This process will help us to continue to improve our service and the quality of our teaching :)
If you have a French business or if you are a micro-entrepreneur, or employed on a French contract, then you should be entitled to a training budget to cover the cost of your French lessons with us.  Please contact us for more information
We had some videographers make videos of Alpine French School to give our future students an idea of what life is like as a student at Alpine French School.  Visit our You Tube Channel to watch the videos!
As always we are offering our French + Ski courses during the winter season, our French + Summer Activities courses in the summer and a full range of French lessons all-year round.
A great winter season!
We have had a great start to our winter season at Alpine French School in Morzine! Our amazing team of teachers and our wonderful students have been having a great time in lessons, on the pistes and out and about in Morzine.  With great snow and lots of sunny days, the skiing has been brilliant and the students have been making the most of it!
School Groups
We were pleased to welcome our first school groups to Alpine French School in December 2019 as part of a project with Juliet Park (Director MFL, Specialist Leader in Education & experienced examiner of GCSE and NVQ for French).  We hope to welcome more school groups in the future for French Immersion, French + Professional Experience and other programmes.
---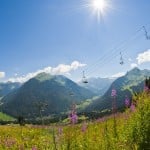 So we are out of lockdown in the UK and in France and people's thoughts are turning to their summer holidays. After so long stuck at home during lockdown, many people are looking forward to taking a holiday either in their own country or overseas.  If you are thinking of…
Continue Reading
---
---
---
---