* Book now for Winter 2023 at last year's prices - from just 199€ per week for an Intensive Course! * Enquire Now!
Discover and Inspire Summer Camp in English for local expat children
As part of our Summer Camp 2020, Alpine French School is launching a new part of the camp aimed at English-speaking families living in the Morzine area.
The Idea
The idea is for children to discover the answers to the type of questions they ask about the world around them in a fun environment. We want to expand their knowledge and inspire them! With a mix of themes all approached in an interactive way, children will learn in English about a range of subjects as below.  This will also expand their English vocabulary and their command of the English language.
Themes
Inside your Body
Plants and the nature around us
Volcanoes, Natural Disasters and the Wonders of the World
Stars and Planets
Time, Weather and the Seasons
Interesting History
Workshops will be taught by an ex British primary school teacher, in English, in a fun way – as it is the school holidays after all!  If you are interested in signing up your children and have other ideas about possible themes, please feel free to say….
Useful Information
Children need be able to read and write in English
Groups will be divided according to age
Workshops take place at Ecole Sainte Marie Morzine
Proposed dates:
13-17 July 2020: CP-CE1-CE2
20-24 July 2020: CE2-CM1-CM2
27-31 July 2020: CP-CE1-CE2
3-7 Aug 2020: CE2-CM1-CM2
Prices: 12h30-17h30: 150€ per week (parents provide a picnic lunch & snack)
Lunch Menus (for an additional 75€ per week, your children can eat at our camp restaurant)
-Cottage pie and 2 veg, chocolate mousse
-Spaghetti bolognese, bread & butter pudding
-Chicken, rice & veg, fruit salad & ice-cream
-Burger, salad and potato wedges, lemon tart with meringue
-Chicken pesto pasta with broccoli, apple pie & ice-cream
-Sausage, chips & peas, chocolate brownie
-Chilli, fruit salad & ice-cream
-Chicken, jacket potatoes & veg, apple pie & ice-cream
-Pasta carbonara & salad, chocolate mousse
-Tartiflette, fruit & yoghurt
Read more here
Contact juniors@alpinefrenchschool.com for more information, call 04 50 79 08 38 or pop in and see us!
---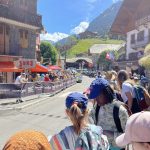 Summer 2022 feels like a long time ago, especially now we have snow in Morzine. But what a Summer it was!  Our Summer Camp kicked off with a busy week as Morzine hosted the starting stage of Le Tour de France and the bi-annual Harley Day's Festival. We managed…
Continue Reading
---
---
---
---