Concerned about the Coronavirus? Contact us to discuss our new FREE CANCELLATION POLICY & book with peace of mind Contact Us
French Summer Camp: The Discovery Activities
Students on our French Summer Camp get a choice of activities to take part in. All of our students are individuals and enjoy different things and different kinds of activities.  Just because they come and study French on our French Summer Camp in the Alps, doesn't mean that everyone wants to take part in mountain adventure activities….. So at Alpine French School's Summer Camp, we have a popular alternative activity programme which includes a wide variety of activities.
This activity programme on our French Summer Camp is called Discovery and Creativity as it allows students to taste a wide range of activities.  Read on to find out more….
Swimming
Students start the week with swimming either at the pool at our French Summer Camp centre or at the pool complex in the centre of Morzine. Lifeguards supervise swimming and organise water games to entertain the students!
Hiking and Nature Art
Students on our French Summer Camp get to explore the local area and see some of the Chablais mountain range by hiking on some of the scenic mountain trails.  Our partner French mountain guides live in the local area and love to share their passion for their local mountains with our French Summer Camp students.
Yoga
Students get to practice different forms of yoga with our French yoga teacher.  A fun way to enjoy movement, explore emotions, build concentration, manage stress and increase their self-confidence and build a positive self image.  Students also learn to feel part of a healthy, non-competitive group and help team dynamics.  Important skills to develop in today's world.
Zumba
A fun dance craze which has recently gained in popularity for adults, teenagers and children.  Students enjoy some great lively music, learn dance steps and get a great workout.  Amazing fun!
Creative Arts
Our French creative arts teachers help our French Summer Camp students to try out their artistic and creative skills in a range of activities.  Students will learn a lot of French vocabulary too and will work individually or in small groups.
Arc'Tag
Arc Tag is a strategic game where 2 games take each other on equipped with foam bows and arrows.  They can take temporary shelter behind inflatable objects to avoid being 'hit' by the other team.
Laser Game
Students form 2 teams with infrared 'guns' and play according to a scenario that is predetermined and explained to the students.  This makes for a thrilling activity where students have to use their brains, concentration, tactical skills, strategy and team work to beat the 'enemy'.
This great range of activities provide a popular part of our French Summer Camp in France!
---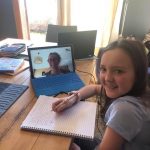 2020 is a strange year so far….it started off ok but with the distant news of a new Coronavirus and within 3 months, our worlds were turned upside down.  With a large part of the world's population in lockdown or quarantine, we have had to adapt to new working conditions,…
Continue Reading
---
---
---
---