French Courses in France for Teenagers
It isn't a secret that the teenage years can be a complicated time…especially in this day and age!  Many teenagers study French at school but don't really see the point in studying it and the majority aren't very motivated or inspired.  This is somewhat normal when they are learning French as an abstract subject in a classroom mostly from a grammar book or a text book.  They don't really see the point of learning a foreign language and unless they have French friends, holiday in France regularly or have a particularly inspiring French teacher, French can be a struggle….
Many teenagers take French for GCSE so it is an important subject for their school grades but also languages are an invaluable skill for future life in this day and age.  On Alpine French School's French Immersion Camps for teens, the focus is on getting teenagers speaking a listening to French using a variety of activities carefully designed by our expert pedagogical team.  Our teachers have experience of teaching GCSE in UK schools and keep up to date with updates to the UK syllabus and exam requirements, so are perfectly experienced to provide relevant and useful lessons to teenagers attending the language school for teenagers in France.
Alpine French School runs a French Language School for Teenagers in the summer with various options (Day Camp, Family Camp, Residential Camp or GCSE & other exam preparation courses) which you can read more about here.  One of our aims on each of our camp programmes is to offer teenagers an opportunity to see the world differently: taking them out of their everyday life, exposing them to new ideas, different cultures, people who live all around the world with different types of lives.  As one student on the French Immersion Camps for teens said this summer
"I didn't want to come to the French language school for teens in France, it was my mum's idea so I agreed to do the Day Camp.  On the first day, I met people from all around the world and it was really interesting hearing about their lives.  The French lessons were nothing like at school, we did loads of games, activities and speaking and the 3 hours each morning flew by.  The afternoon adventure activities were so much fun and I made loads of friends.  I wish I'd booked for 2 weeks residential!  So if your parents suggest a French language school for teenagers as an option for your summer holidays, watch some of the videos and give it go – you'll probably enjoy it a lot more than you would ever imagine!"
If you want to see more about Alpine French School's Language School for Teenagers in France, click here to watch a video to see what it's really like!
---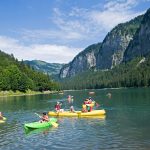 Summer in the mountains is a completely different holiday experience to your normal all inclusive beach holiday, in fact, it's better! Imagine – gorgeous views surrounding you, long days in the sun spent swimming in Alpine lakes or exploring the mountains on foot or bike, and finishing the day with…
Continue Reading
---
---
---
---