Embracing the Ultimate Winter Experience: Remote Work, Solo Travel, and French in Morzine
Embracing the Ultimate Winter Experience: Remote Work, Solo Travel, and French in Morzine
Winter enthusiasts and language learners alike are finding a haven in the picturesque ski resort of Morzine, where the combination of remote work and immersive French learning creates an unparalleled experience. Nestled amidst the snow-capped peaks of the French Alps, Morzine offers a unique blend of professional growth, cultural enrichment, and adrenaline-pumping adventures.
One of the prime attractions in Morzine is the Alpine French School, renowned for its intensive Winter courses that allow participants to study French in an engaging environment. Imagine honing your language skills during the day, surrounded by Alpine scenery, and then hitting the slopes in the afternoon (or vice-versa!). All whilst mastering the art of skiing or snowboarding under the expert guidance of ESF instructors.
What sets Morzine apart is the flexibility it offers. Remote workers can seamlessly blend their professional commitments with thrilling winter escapades. The freedom to work remotely means you can wake up to the breathtaking mountain views, sip your morning coffee, attend virtual meetings, and then reward yourself with a thrilling descent down the slopes. Above all, the sense of accomplishment achieved on the slopes perfectly complements the satisfaction of mastering a new language.
Accommodation options in Morzine cater to every preference…
HeyDay Chalet,  offers a range of alpine chalet accommodation with total flexibility, for an unforgettable mountain vacation. Guests can enjoy boutique indoor and outdoor spaces such as an outdoor hot tub, designed to strike the perfect balance between comfort, work and adventure. The HeyDay chalet has been refurbished and refitted with digital nomad coliving in mind with an on-site office space for your use. In the bucket-list adventure destination of Morzine, you will find skiing, snowboarding, MTB and all outdoor pursuits right on your dootstep. During your stay, plug into a ready-made network of open and positive people, just like you.
Why not fully immerse yourself in French language and culture during your stay. Alpine French School's host family program is a unique opportunity for students to immerse themselves in the culture and language of the French Alps while enjoying a supportive and authentic living experience. Students are carefully matched with local host families who open their homes, providing a warm and welcoming environment. This program offers a chance to practice French in real-life situations, further enhancing language skills.
For those seeking a touch of luxury, the resort boasts a huge range of hotels and private accommodation that provide comfort and relaxation after a day filled with learning and adventure. 
Hear a bit more about what we offer from past students…
"I absolutely loved studying here this past winter! I have a full-time in person job in tech but was able to make it work for a few weeks remotely in the intensive class and a few tutoring sessions.
Everyone at the school was super friendly and engaging. Lessons were a fun time mixed with group activities, games, and direct instruction.
I'm not even a big skier but still got to enjoy the beauty of Morzine by hiking on the trails, snowshoeing, and taking in all the nature and chalet-style charm during my free time.
Shortly after my trip I even took the DELF B2 exam and passed! Huge credit to all of my teachers and everyone at Alpine French School! :)" – John Hui (Winter 2023 Student)
Find out more about HeyDay Chalet here: https://heydaychalet.com/digital-nomads/
---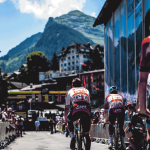 On Saturday 15th July the Tour de France will arrive in Morzine. The Tour will depart from Annemasse on Saturday morning and head towards Samoëns. From there, the riders will have to conquer the winding road to the Col de Joux Plane, at 1691 m altitude, that separates the valleys…
Continue Reading
---
---
---
---