A French Summer Camp treasure hunt
Whilst your child is enjoying themselves on our French Summer Camp we don't want them to just learn the language, we also want them to have the holiday of a lifetime. Morzine is one of the most beautiful places to visit, surrounded by mountains, rivers and lakes. It also has some of the most exciting adventure activities right on the doorstep. We've come up with a Morzine treasure hunt to add even more fun for your child… we hope they enjoy ticking off all of the things on this list!
Try lots of cheeses
France is known for its love of cheese and all of the different types it produces. Morzine is no exception. There are hundreds of local cheese made here that are delicious and well worth trying. Whilst your child is on French summer camp with us, they will be able to have some free time exploring the shops in Morzine and we challenge them, to try a few of the delicious (potentially stinky) cheeses that are on offer. Local cheeses include the Tomme de Savoie, Morbier and Abondance.
Swim in a river or lake
Morzine is home to some beautiful lakes and rivers. Lake Montriond is one of the most popular places to visit on our French Summer Camp, the children love trying kayaking, paddle boarding and canoeing. We're also only 30 minutes away from the beaches of lake Geneva. The water in both lakes is crystal clear and very refreshing, especially in the height of summer! Your child will love diving in and enjoying a swim in either one!
Spot some amazing wildlife
There are hundreds of amazing animals and birds to spot whilst in Morzine and, unless your child walks around with their eyes closed, they're bound to see some of them whilst they're here. Look to the skies to see eagles soar around the mountains, keep your eyes on the forest to spot deers galloping through the woodland, head into the mountains and listen to the squeaks of resident marmottes and if you're lucky keep your eyes open at dusk for wild boar and their babies. Our French summer camp activity leaders are experienced in spotting all of these amazing animals so don't worry, they'll make sure your child has the chance to see some of them.
Eat croissants for breakfast
This is a must in France. Croissants and Pain au Chocolates are the most popular breakfast items so it would be a real shame to not give them a try whilst you're here! A visit to a local bakery is a perfect opportunity for your child to practice their French as well and there are some really delicious treats for them to try if they're feeling peckish.
Speak French to a local
We challenge your child to put their newly learnt French to the test. Locals in Morzine are, on the whole, welcoming and willing to help youngsters develop their French. Whether in the local supermarket, bakery or restaurant we think it's very important for our French summer camp students to test out what they've learnt whilst surrounded by native speakers. We will always encourage the children to have a chat in French and if they struggle we will of course help them along but usually children are much less self conscious than adults so manage this challenge just fine!
Do something that scares them
Now this isn't hard to do on our French Summer Camp. Most of the afternoon adventure activities require a bit of extra adrenaline! Whether your child has opted to try white water rafting, canyoning or climbing, there's an element of fear attached to all of these activities. Even diving into the chilly waters of the lake can be a bit scary! All of these activities are fully supervised and safe but an adventure activity can't be called an adventure activity without a little bit of a challenge attached to it! Your child will love coming home and telling you all about the exciting things they did whilst on holiday in Morzine.
Make a new friend
This is one of our favourite things on the Morzine treasure hunt list! We love to see new friendships forming on our French summer camp and we love hearing about how children keep in touch long after meeting whilst here in Morzine. Encourage your child to speak to other children whilst they're here, get them to learn about other children's cultures and home life, we pride ourselves on having students come to us from all over the world and we love seeing children from all sorts of different backgrounds come together and have the holiday of a lifetime!
---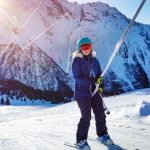 If you have never skied before and are looking to spend a holiday, or perhaps a season in the french alps, you have a lot to think about. From what clothes you need, how many layers to put on, to equipment and overall fitness, the experience is definitely a new…
Continue Reading
---
---
---
---