Winter 2021 French Courses
If you are here in Morzine for the winter and like many of us, you have some spare time on your hands, why not make good use of your time to work on your French! Alpine French School are running a variety of courses both at our school and online.
Professional training courses can take place at our school with strict Covid protocol including teachers and students all wearing masks.
Weekly French Lessons
At Alpine French School, we are running weekly French lessons in small groups from week commencing 11th or week commencing 18th January for 10 weeks:
10-week course
1.5-hour lesson each week
Small groups with a maximum of 5 students plus the teacher
Groups are available for all levels and are fully adapted to the level of the students in the group
Course focus on speaking and listening skills
Price: 249€ for 15 hours **reduced from the regular price of 300€!
Lesson days and times are as follows:
Beginner:
Monday 9.00am – 10.30am
or
Tuesday 11.30am – 1.00pm

Elementary :
Monday 11.30am – 1.00pm

or
Monday 6.15-7.45pm
Upper Elementary:
Tuesday 1.30pm – 3.00pm
Mixed Intermediate:
Thursday 11.30am – 1.00pm
*Possibility of other days and times subject to demand.  Don't hesitate to ask for more information.
Private Courses
We are running individual/private French lessons either in person or over Zoom/Skype.  Some students prefer to take their lessons via Zoom/Skype in the comfort of their own homes and in this case they don't have to wear a mask which is often preferred for language learning.
Online Lessons
We offer private and small group lessons via Zoom or Skype for adults and children.  Our teachers are all fully trained in online learning and our students are always surprised at how much they enjoy their online lessons!  Read more here:
Online French Courses for Adults
Online French Courses for Children
Tailor-made lessons
We can arrange any tailor-made language courses for adults or children so please contact us to tell us what you would like to book and we can arrange this for you!
Government Training Budgets
If you are employed on a French contract, if you have your own French business or if you are an auto-entrepreneur/micro-entrepreneur, you should be entitled to a training budget to finance your course with us.  Read more here!
nous sommes ouverts pour constituer des groupes last minute, des intensifs pour les second home etc.
---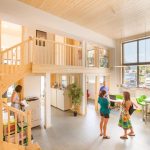 Did you book onto an intensive winter course at our school in Morzine? Well lucky you! During our lessons, we like to focus on conversation, which is complemented by those pesky grammar points and comprehension, but the ultimate goal is to get you to be able to communicate with French…
Continue Reading
---
---
---
---