Why you should choose to learn French in Morzine: home or away
Whether you live in Morzine or fancy having a holiday or extended break to this beautiful part of the world, learning French could be a great thing to add to your to do list whilst you're here. We think that Morzine is the perfect place to base yourself whilst you learn French and here's why.
Location Location Location
If you've decided to make the move and live here in Morzine then you'll already understand why it's the perfect place to come to learn French. You're surrounded by the most beautiful landscape and scenery and there is so much to do. You can choose from skiing and snowboarding in the winter and take your pick of a huge range of sports in the summer. From tennis to running, from swimming to sailing and from hiking to biking, there's something for everyone. We're surrounded by picturesque french towns and villages that are full of history, culture and fantastic shops and restaurants. You really couldn't ask for a prettier and more exciting place to practice your newly learnt language. Another important factor is that all the French here are extremely patient and most speak English due to the huge number of tourists who visit here each year. This means there's always someone on hand to help if you get a little bit stuck with your French. Whatever your level, you'll be able to get by and at the same time improve. We think spending time in Morzine will really help you progress quickly.
Locals and visitors
Morzine is full of an eclectic mix of people from all over the world. However there is still a huge number of people who were born here and have grown up here. There are also a lot of French people from other areas of the country have moved to Morzine to settle and at the same time enjoy the amazing activities that this part of the world has to offer. A lot of these people enjoy speaking English as well as French which again is the perfect formula for anyone wanting to progress their own language learning.
Selection of courses
Here at Alpine French School we have a variety of different courses and lessons available to suit everyone's needs. For instance, if you're a resident in Morzine and want to take a steady approach to learning French, you could book onto a regular weekly lesson with us. If you're here for a short time but want to quickly improve your french then you can sign up to one of our intensive French courses. These require you to give more time each week to your French but you'll see a quick improvement. If you're here on holiday, then why not consider a holiday intensive or perhaps getting involved in our social and cultural activities. You can practice your french whilst enjoying activities such as yoga, cheese dairy tours and a meal with a local family. We also offer private lessons if you find you learn better on a one to one basis.
Great fun for all of the family
The activities available in Morzine make it the perfect place to relocate to as a family or to head to for your annual holiday. There's something for everyone and our courses reflect that. We run an amazing French Summer Camp for children in the summer, again whilst offering a range of adult courses at the same time. We are flexible and open to everyone's requirements and are happy to fit in around your activities and plans.
Ski in the day, learn french in the evening or lessons in the morning, bike in the afternoon…Morzine has it all!
---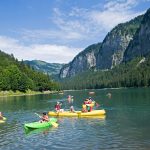 Summer in the mountains is a completely different holiday experience to your normal all inclusive beach holiday, in fact, it's better! Imagine – gorgeous views surrounding you, long days in the sun spent swimming in Alpine lakes or exploring the mountains on foot or bike, and finishing the day with…
Continue Reading
---
---
---
---