Concerned about the Coronavirus? Contact us to discuss our new FREE CANCELLATION POLICY & book with peace of mind Contact Us
Why learning a language makes you feel young again
French lessons at Alpine French School won't just help you learn a new language, there are loads of other benefits you'll notice when signing up on one of our courses. One of the lesser known facts about learning a language is that it'll actually make you feel younger. Yes. Younger would you believe. And here's why…..
Great for your brain and your memory
By signing up for French lessons with us you're effectively booking yourself into a gym for the mind. Research shows that learning a language, no matter how old you are, has positive effects on the brain. It has cognitive benefits including improving memory whilst also slowing brain ageing and illnesses like Alzheimer's and Dementia. After a course with Alpine French School, you'll be using your brain in ways you haven't before or for a long time. The mind is just like the body. Give it a good work out and you become fitter, stronger and quicker!
New challenge
One of the most infuriating things we come up against when getting older is managing to find things to do that are a new challenge. We watch our children and grandchildren facing new challenges on a daily basis but it's harder to find things that push our own personal boundaries. This can be down to a lack of time, physical issues holding us back or lack of general confidence. We believe that taking French lessons at Alpine French School and setting out to learn a new language is the perfect challenge in all of the above situations. You'll notice a renewed spring in your step when you make the decision to tackle this life changing challenge.
You'll meet new inspirational people
Meeting new people is the perfect way to slow down the ageing process. Perhaps you're new to the area, perhaps, as an adult, you struggle to make new friends or perhaps you are so busy looking after your family, you don't have time to do much socialising. French lessons are the perfect way to make some new friends and to enjoy some sociable time away from home. All of these things help you to feel younger. You'll meet truly inspirational people in your French lessons and will enjoy getting to know them. Our classes are lively and fun too meaning you also get to have a bit of a laugh whilst you learn. Many students who come for lessons with us end up making friends and heading for a sneaky coffee or glass of wine after class.
Makes you feel like you're back at school
Heading into your first French lesson with us will certainly bring back some memories. You'll be forgiven in feeling nervous in your first day with us, after all it's like going back to school. Will you make any friends? Will you find the lesson too difficult? What will your teacher be like? There's nothing like a good old reminisce to bring out your youthful side, you'll love telling your family about your first day back at school and you'll feel like you're a teenager again!
You'll sleep better
Have you been struggling to sleep? Are you finding it difficult to drop off at night? Again, like your body, by giving your brain a good work out, you'll find that you get to dreamland much much more quickly. Once you get to a certain level you can try and read a French book in bed each evening. You'll find that all the worries and problems that we're keeping you from sleeping before will be long gone. And of course, the more sleep you get, the sprightlier you'll feel!
---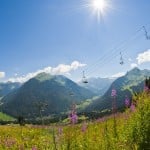 So we are out of lockdown in the UK and in France and people's thoughts are turning to their summer holidays. After so long stuck at home during lockdown, many people are looking forward to taking a holiday either in their own country or overseas.  If you are thinking of…
Continue Reading
---
---
---
---