What is a French Skype or Zoom lesson like?
If you're thinking of ways to keep up your French or your children's French during this period of confinement, lockdown or social distancing, then you might have thought about Skype or Zoom lessons.  However, if you've never taken a virtual lesson before, then you may wonder what it's like and how it works in real life.
Before your lessons start, you will give us an idea of your level either based on previous studies or a recent evaluation.  We also talk to students about any specific objectives or requests they have for the lessons to make sure that our teachers can prepare something suitable for the first lesson even though they have never met you before.  You will book a course of Skype lessons of either 5 or 10 lessons as it is important to have some continuity in your course.
Skype is a great way to work on conversation, speaking and listening skills.  The lessons give you the perfect opportunity to converse one on one with a French native speaker who can work with you to improve your French and increase your confidence.  And in this current situation, the lessons can be a nice sociable break in your day!
If your teacher would like you to have any documents to refer to during your lesson, he/she will email these to you so that you can download and/or print them to look at during the Skype lessons.  Otherwise, he/she will message you using the chat feature to give you any vocabulary or grammar needed during the lesson.  If is handy to have a dictionary (online or paper) to hand also.
On the day of your lesson, you give us your Skype ID and at the arranged time, our teacher will call you.  Alternatively if you are using Zoom, we will email you the link to click on to join the lesson at the arranged time.  Please ensure that you are in a quiet room where you can easily concentrate and are away from distractions.  If you are booking lessons for your children, we recommend that you join them for the first few minutes to ensure that the connection is working properly and that they feel at ease with the teacher. After this though, you can leave them with the teacher and just keep an ear out in case they need anything.  We often find that children are less distracted when they are on their own!
Our teachers are all native French speakers and qualified teachers.  They are all fully trained in teaching online and have a lot of experience in Skype and Zoom lessons.  We regularly offer these lessons to students who travel a lot for their work so this isn't new for them.  Our new students are usually presently surprised at how enjoyable but effective the lessons are thanks to the expertise of our teachers.
So why not give it a go?  Email info@alpinefrenchschool.com or contact us by clicking here! 
---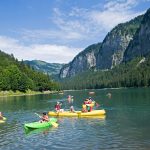 Summer in the mountains is a completely different holiday experience to your normal all inclusive beach holiday, in fact, it's better! Imagine – gorgeous views surrounding you, long days in the sun spent swimming in Alpine lakes or exploring the mountains on foot or bike, and finishing the day with…
Continue Reading
---
---
---
---