In other words, how to binge watch Netflix while immersing yourself in the French language at the same time!
Gone are the days where you sit around all day feeling guilty after having just binged 3 seasons of your favourite show. Aside from learning French with us in a classroom setting or online, watching French TV can really compliment your course and teach you phrases that make you stand out from your peers. Try also watching with French subtitles to improve listening and pronunciation!
So without further ado, here is a list of some french cinema that we are sure will appeal to our fellow linguists as well as cinephiles.
Dix pour cent (Call My Agent!)
This series follows a Parisian film agency and its workers. Amidst their own personal drama, professional feuds and celebrity caprices, this comedy drama features everything you would need from an entertaining series. Great acting and screenplay as well as celebrity guests such as Juliette Binoche make it an authentic and gripping watch. Accompanied by quickly spoken yet not too complex French, it is easily one of the best Netflix shows if you are learning french.
Plan Coeur (The Hookup Plan)
Who does not love some not so traditional romance? This show is the epitome of french comedy, awkward relationships, heartbreak and friendships. Who needs a tub of ice-cream and tearjerker films when hiring an escort to seduce heartbreak out of your best friend is the obvious solution to a disaster breakup? Plan Coeur is filled with colloquial French and slang terms, which (paired with extensive knowledge on rigorous and brutal grammar rules and conjugations ;) will add that authenticity to your French to polish up your communication!
Au service de la France (A Very Secret Service)
If you enjoy history and social affairs, this show is for you. That is if you also enjoy satire. This spy drama takes us back to Paris in the 60s and does not hold back when it comes to poking fun at France's at times controversial past. Delivered in a witty and hilarious manner, it will definitely get at least a chuckle out of you. And you know what they say: once you understand a joke in a foreign language, you are on the right track!
Les Aventures de Tintin (The Adventures of Tintin)
Finally something for our beginners. Do not think that French cinema is unattainable for you just because you have just started! An old-time classic, this cartoon is a fantastic watch for adults as well as children. The series (originally a comic) follows a young Belgian detective who embarks on countless adventures on a quest to solve crimes.
So fire your TV and get watching!
---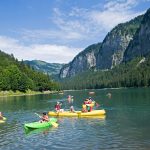 Summer in the mountains is a completely different holiday experience to your normal all inclusive beach holiday, in fact, it's better! Imagine – gorgeous views surrounding you, long days in the sun spent swimming in Alpine lakes or exploring the mountains on foot or bike, and finishing the day with…
Continue Reading
---
---
---
---