French Traditions: Mardi Gras
Are you ready to get dressed up or eat pancakes?  Lots of French people and people around the world celebrate Mardi Gras. But how did the name come about and what are the origins of and traditions around Mardi Gras.
Mardi Gras was originally a religious festival.  It takes place 47 days before Easter, the Tuesday before Ash Wednesday and the start of Lent when Christians traditionally abstain from eating fatty food, especially meat.  Nowadays some Christians choose something else to give up for the period of Lent to represent the sacrifices that Jesus had to make during this period.
Mardi Gras or Shrove Tuesday or Pancake Tuesday is the day that is celebrated.  In many countries, the festival extends to a full week before the 40 day period of lent.  This festive period is often marked by carnivals around the world including in Spain, Venice, Rio de Janeiro and Dunkerque to name a few.  In the Middle Ages, the fancy dress allowed class differences to be forgotten for the carnival period.  Peasants could dress up as the rich and men could dress up as women.
On Mardi Gras, the tradition is to eat pancakes.  This tradition was to finish stocks of eggs and butter before the fasting period of lent.   French people eat pancakes (crêpes), waffles (gaufres) and donuts (beignets). In different areas of France, these delicacies have different names: merveilles near Bordeaux, beugnots in the Vosges, risoles in the Jura, bugnes near Lyon, oreillettes flavored with vanilla or orange with citrus zest in Montpellier, tourtisseaux or bottereaux in other regions.
Children in some areas dress up and ask neighbors for eggs, sugar, flour etc to make cakes or pancakes which will be eaten later in the afternoon.
---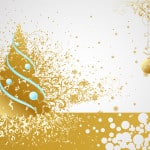 Advent calendars – les calendriers de l'Avent French children open Advent Calendars like in many other countries during the month of December leading up to Christmas. Postcards from Père Noël Letters from French kids to Father Christmas always receive a response from Santa. Since 1962, France has had a…
Continue Reading
---
---
---
---