French Summer Camp in France: the activities 2019 6-10 years
We tailor the activities at our summer camps to suit all ages so we have a schedule of amazing extra curricular things for the younger children to do as well as the teenagers. This means that as well as learning a language at our French Summer Camp, the children also have a holiday to remember that is full of fun. We invite fantastic local teachers to come to the language school to teach different classes, we'll take the children out to experience different activities in the local area and we'll head high into the mountains as well. This is no ordinary summer camp…
Trips out
We'll take the children to Morzine's amazing outdoor swimming pool and they can play games in the water for hours. This fantastic facility in the centre of Morzine has a slide and splash pools for all ages and is a great way to burn off some extra steam after a morning of learning. There are also a number of good tennis courts by the swimming pool which are brilliant on warm summer days. The children will love competing with each other and testing out their tennis skills. The summer luge is also a popular activity with our students. The toboggan run snakes down the side of the mountain in the centre of Morzine and it's fun for all ages. There's a slow lane for the younger children and a fast one for the more daring. As well as the fun of the slide itself, children get to enjoy a spectacular chair lift ride to get to the start line.
Fun at the language school
We know that children have a lot of energy and sitting down in a classroom for long periods of time can be hard for them. So we also have a fantastic programme of activities at the centre to get them moving in the hope of using up some of that energy. We invite teachers from around Morzine to bring something different to the summer camp. For instance we run Zumba and Yoga sessions as well as creative arts, theatre and dance workshops. We also have brilliant activity leaders who will set up fun outdoor activities for the children in the centres large outdoor space. This includes obstacle courses and games of sponge-ball and hand-ball. The children always love playing games and going a little wild at the centre because it's a familiar environment and they get time to get to know each other better and make new friends.
In the mountains
We are lucky enough to be able to run our French Summer Camp from one of the most spectacular locations in the world! So whilst your child is studying with us, we'll also make sure they get the opportunity to explore everything this beautiful place has to offer. They can choose to have a go at hiking, orienteering and horse-riding in the countryside or perhaps they would enjoy some art classes outside. Our popular nature art sessions allow the children to be creative whilst also appreciating what's going on around them.
A summer camp with us is about learning a language but it's also about having an amazing week in a spectacular location. Your child will have fun and make new friends whilst also having a go at some incredible activities. They'll love going back to school after the summer holidays and telling all of their friends about their amazing trip to the French Alps.
---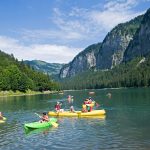 Summer in the mountains is a completely different holiday experience to your normal all inclusive beach holiday, in fact, it's better! Imagine – gorgeous views surrounding you, long days in the sun spent swimming in Alpine lakes or exploring the mountains on foot or bike, and finishing the day with…
Continue Reading
---
---
---
---