French Lessons paid for by the French government
If you have been put on furlough (chômage/activité partielle), then the French government are offering to finance your French lessons.  Most sectors including mountain and tourism businesses have their training fees paid 100%.
What about Business Owners and Auto-Entrepreneurs?
Business owners and auto-entrepreneurs can also quality for training budgets to pay for their French lessons.  So if you have more time on your hands than usual at the moment, why not take a French course to give some structure to your days and weeks?
Do I have to pay in advance?
If you are on a French contract, you don't have to pay out a single penny, the government pay Alpine French School directly for your course so all you have to do is give us the information we need to prepare your application and then follow your course.  Business owners and Auto-entrepreneurs have to pay upfront or in installments but every penny is refunded and this is agreed in writing in advance.
What about the paperwork?
Alpine French School's bilingual team will be there to help along each step of the process.
What if I am on regular unemployment (chômage)?
You are still entitled to a training budget.  If you have CPF, your Pôle Emploi advisor may ask you to use this towards the course and they will pay the rest.  Contact us for more information about how to go about this.
Which courses can I choose?
You can choose from a variety of courses with the choice of face to face lessons in our central Morzine school, or Zoom/Skype lessons from your home or place of work,  group lessons and/or e-learning.  Our team will help you to choose the best course for you.
For more information, please call us on 04 50 80 33 05 or send us an email to budgets@alpinefrenchschool.com.  You can also visit our website for more information.
---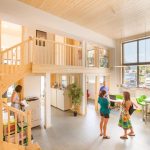 Did you book onto an intensive winter course at our school in Morzine? Well lucky you! During our lessons, we like to focus on conversation, which is complemented by those pesky grammar points and comprehension, but the ultimate goal is to get you to be able to communicate with French…
Continue Reading
---
---
---
---