* Book now for Winter 2023 at last year's prices - from just 199€ per week for an Intensive Course! * Enquire Now!
French Language School for Kids
Many kids of all nationalities study French at school, often from primary school age throughout their schooling. So it is no wonder that many parents look for a French Language School for kids during the school holidays, especially the long summer holidays.  The idea of a French school for kids might not seem like your children's idea of a great idea for a summer holiday, especially if they are uninspired by French at school!  But by bringing them to France, this ca help to bring the language to life.  They can use French in real life situations, speak French to real French people, use their French to order in shops, bars and restaurants and even make friends and play in French.
Complete this French immersion experience with French lessons for children and their level of French will progress along with their motivation to learn the language in the future.  Alpine French School offers a variety of Summer French lessons for children.  You can read more about the various options on this page but here is a brief resumé:
Our French School for kids offers a French Day Camp which consists of morning French lessons which are fun, interactive and inspiring.  Based around games and activities that children really relate to, our lessons get the children using their French in a range of activities.  With syllabus' carefully designed by our expert childrens' pedagogical coordinator, our students make great progress during their time with us and more importantly they love it too!  In the afternoon, 6-10 year olds take part in Adventure activities and 11-17 year olds can take part in Adventure Plus activities.  You can read about our activity programmes here.
If you as parents are also interested in learning French or improving your French while your children attend our language school for children in France, then our Family French Summer Camp could be for you.  As above, children take part in morning French lessons and then in the afternoon, they can either stay at the camp and take part in activities with their new friends or you can enjoy activities together as a family.  Alpine French School can arrange various types of accommodation including apartments shared with other students, hotels, chalets……
If you are looking for a French school for kids that they can attend independently, then 11-17 year olds can attend our French residential Summer Camp.  This means that they come without you, their parents, and stay in our student residence with our Camp Director and Activity Leaders who offer 24/7 supervision. In the morning they do French lessons, followed by adventure activities in the afternoons, evening activities plus weekend activities and excursions.  All meals are provided and they are guaranteed a great time with children from around the world.
French GCSE and other Exam Preparation courses
As part of our French language school for children, we offer French GCSE and other preparation courses.  These courses run within our French Summer Camp during the summer holidays.
And to finish, a review from one of our many happy students:
"I'm overdue in thanking you for all your assistance as we looked into sending our two children to camp this August. Mia and Noah had a terrific time and learned so much. The afternoon activities exceeded expectations and they are still in touch with friends they met that week.  The private lessons really helped Mia out with the subjunctive— on her first day of school, she passed the test needed to jump ahead a year of honors French."
– Rebecca Caruso – Junior Review
You can see for yourself what our French Language School for kids is like on our Day Camp Adventure video.
---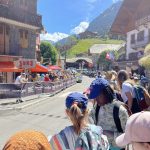 Summer 2022 feels like a long time ago, especially now we have snow in Morzine. But what a Summer it was!  Our Summer Camp kicked off with a busy week as Morzine hosted the starting stage of Le Tour de France and the bi-annual Harley Day's Festival. We managed…
Continue Reading
---
---
---
---