French Courses this winter
If you're keen to work on your French this winter, Alpine French School is running group courses for seasonnaires and locals. You can possibly get your course funded by the government if you are on a French contract and your manager approves this.
The deadline to apply for the funding is 8th December so get in touch quickly so we can assist with the paperwork. Simply email us on budgets@alpinefrenchschool.com.
COURSE DETAILS:
15 hour French course = 1h30 per week over 10 weeks
Runs from 10th January till 31st March 2022
MONDAY – 11:30-13:00 – Beginner/ beginner plus
You need to revise the basics such as introducing yourself, asking for things in shops, how to ask questions and learn to make your own sentences.
THURSDAY – 11.30-13.00: Elementary / elementary plus
You know how to put your sentences together in the present but you need to ask more complex questions and you'd like to learn how to say things in the past (what you've done).
TUESDAY – 11.30-13.00: Low intermediate
You know the future, in the past and present but you need a recap and want to learn more tenses to tell stories as you struggle to say things such as 'he was running when I saw him..' 'I was watching telly whilst they were playing'.
Possibility of additional groups according to demand.
If you wish to pay yourself, the cost of the course is 289€ and you can enrol directly by emailing info@alpinefrenchschool.com.
We also offer French Intensive courses every week during the winter season.  Choose from morning or afternoon sessions, either 9h-11h or 16h-18h.  We offer a range of levels every week.
Or if you prefer to take private lessons, we also offer individual lessons with our great team of teachers! Contact us to find out more.
A bientôt!
---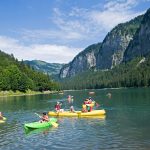 Summer in the mountains is a completely different holiday experience to your normal all inclusive beach holiday, in fact, it's better! Imagine – gorgeous views surrounding you, long days in the sun spent swimming in Alpine lakes or exploring the mountains on foot or bike, and finishing the day with…
Continue Reading
---
---
---
---