French Courses in France for Teenagers including new video!
Here in Morzine at Alpine French School, we pride ourselves on organising great French Courses in France for Teenagers.  Choose from:
 Residential French Summer Camp with Adventure Plus Activities
French Day Camp with Adventure Plus Activities
GCSE French preparation courses (other exam syllabuses also catered for).
The summer months are the perfect time for teenagers to visit Morzine and spend some time improving their French while having a great time!  Many teenagers need to work on their French as they will need it for examinations in the future.  Our French Courses in France for teenagers are a much more enjoyable way than traditional French classroom tuition for children to improve their French.
With interactive, fun French lessons in the mornings and Adventure adrenalin filled activities in the afternoon, there isn't time to be bored!  French lessons at school can be quite grammar-based with a focus on reading and writing.  At Alpine French School, teenagers focus on learning through games, communicative activities and using their French in real-life situations!
For a full French Immersion experience, the residential format of our French Summer Camp means that teenagers are exposed to French 24/7 for 2 weeks solid.  With 15 hours a week of French lessons (plus the possibility of adding private tuition if desired) plus activities in French and daily life supervised by our French staff, teenagers are exposed to French all day long and progress rapidly.  At weekends, students on our French courses in France for teenagers get to explore the local area and see more of the French Alps.
Read more about our Residential French Summer Camp here.  On this page, you can also watch the new video to find out what life is really like on our French Summer Camp.  Alternatively you can visit our Alpine French School You Tube Channel to watch this and our other Alpine French School videos!
---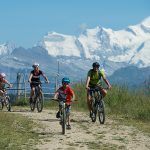 Our 'Family Camp' is one of our most popular options for parents and children to study with us during the summer season, but it's also the option that we get asked the most questions about! So we thought we'd put together a quick blog for the 'Frequently Asked Questions' and…
Continue Reading
---
---
---
---