Concerned about the Coronavirus? Contact us to discuss our new FREE CANCELLATION POLICY & book with peace of mind Contact Us
Where to eat out in Morzine if you have special dietary requirements
If you are visiting Morzine and you have special dietary requirements, then you may be wondering how easy it will be to eat out!  Whether you are vegetarian, vegan, gluten intolerant, lactose intolerant or if you have a different dietary requirement, you will be pleased to learn that the restaurants in Morzine (and in France on the whole) have vastly improved their offering! All restaurants in France now legally have to provide information about which of their dishes contain certain products and certain allergens.  If this information isn't already marked on their main menu, they will have an additional menu that does list all allergens as this is now a legal requirement.  However some restaurants have more choice than others for certain intolerances and here is a quick round up…..
Le Bec Jaune
A popular brasserie brewing its own beer, this bar also serves great bar food including a wide choice of tasty vegan dishes.  Even non-vegans visit the Bec to taste something a little different!  This winter their menu features a mexican influence with great dishes such as spicy tofu, nachos, home-made celeriac remoulade, roast beets, burgers, chilli fries, vegetable chilli and much more!
Le Colibri
A new brasserie which opened for winter 2018 offers a great setting in a great location just off the Pléney slopes and towards the centre of Morzine.  With a brasserie/café menu offering a wide range of Buddha bowls, burgers, sandwiches, bruschetta, salads and much more plus a range of drinks including Chai Lattés, organic herbal teas and much more!
L'Etale
Etale is a lively restaurant located in the centre of Morzine.  It has a huge menu with so many options that there is something for everyone including vegetarians and gluten free diets including the possibility of having any pizza with a gluten-free base and they are really tasty!
La Rotonde
Similar to Etale, La Rotonde also offers gluten-free pizzas and a large menu with many allergens clearly marked on their main menu making it easy for those following special diets to choose from.  The thai beef noodle salad is a great one for gluten-free diets and there are also great vegetarian options.
Satellite Café
The Satellite is a popular lunch spot in Morzine that also now offers evening dining. With great coffee and cakes (including gluten free and vegan), sandwiches, daily specials and soups plus a wide range of smoothies and milkshakes, there is always something vegan and gluten free on the menu!
Le Tremplin
A popular après-ski and lunch spot at the foot of the Pléney slopes and of the Pléney cable-car, le Tremplin offers a modern menu including wheat-free crêpes/galettes and bento boxes as well as more traditional lunch items.
La Chaudanne
An upmarket restaurant and wine bar on the Route de la Plagne, choose from tapas in the wine bar downstairs or a restaurant meal in the upstairs restaurant.  Ask the waiter for the allergens menu and you will see that many of their dishes are suitable for special dietary requirements enabling you to enjoy a true gourmet experience!
---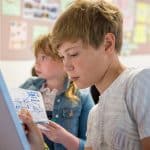 Lockdown has been a unique situation for all of us.  We have all had our own challenges during this time.  On top of this, many of us have had the challenge of home-schooling our children.  My children were born in France, they went to a French childminder (nounou) from an early…
Continue Reading
---
---
---
---