Concerned about the Coronavirus? Contact us to discuss our new FREE CANCELLATION POLICY & book with peace of mind Contact Us
How to Choose your Snowboard?
We talked to our friends at Attack Attack Snowboard Shop in Morzine to find out how you should choose your snowboard for winter 2015….
What are the things you should bear in mind when choosing a snowboard?
Things to bear in mind are the level of the rider, the weight, height and shoe-size.
Can I get one snowboard that is good for all types of riding?
There are several types of snowboards:
All-mountain: these are the most popular snowboards, they are great on piste, off-piste and for freestyle.
Pure Free-style: these are snowboards designed primarily for park riding (jumps and rails)
Free-ride: these are for powder lovers and such boards are usually longer and stiffer.
What is the price range of your snowboards?
The price range varies depending on on the quality of the board in terms of its production ad the technology used. You could say it's a bit like a car! Prices start at 320 euros and go up to 3200 euros!! 3200 euros was for a carbon snowboard made for the boss of Libtech though not the price of an average snowboard!

Can people test snowboards before buying them?
It's really important to test a snowboard before buying it if possible but unfortunately we don't have all models on test. There is a snowboard test in Avoriaz every year and you can test as many boards as you like if you leave your passport. Board-tests are a great idea.
What are rocker/camber and how do these affect my choice?
The rocker is a snowboard that is shaped a little like a banana. It is a shape that allows you to ride powder and free-style without getting tired legs. It's best to choose this type of board 2-3cm shorter than usual. This is the shape that is in fashion at the moment and for the last 5 years.
The camber is the opposite to the rocker, so the nose and tail of the snowboard touch the ground.
What other advice can you give us?
If you are beginner you don't need to spend a fortune on a snowboard; the most important thing is to buy good boots and then good bindings.
---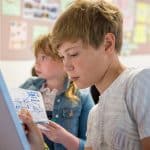 Lockdown has been a unique situation for all of us.  We have all had our own challenges during this time.  On top of this, many of us have had the challenge of home-schooling our children.  My children were born in France, they went to a French childminder (nounou) from an early…
Continue Reading
---
---
---
---