Concerned about the Coronavirus? Contact us to discuss our new FREE CANCELLATION POLICY & book with peace of mind Contact Us
An interview with one of our French students: Alpine French School Student Carolyn Fortune
Carolyn came for her Friday fun with Céline today. She is attending Weekly French Lessons at Alpine French School. The current Weekly French Lessons started in September and will run for 10 weeks every Friday for 1.5 hours.
She has also just attended the French Intensive Course. The French Intensive course ran Monday to Friday from 9h00 until 12h00 where the group focused on their vocabulary as well as speaking and listening skills.
Carolyn has lived in Morzine for 4 years now, working for More Mountain as Operations Director for Apartments. She needs to use her French as part of her job especially when she has to organise work to be done in the apartments and chalets. The Alpine French School carefully plan their lessons based on the students work so we ensure that the classes are relevant and the studies will be practical and useful on a daily basis. Although Carolyn did admit to me that she probably only gets to use her French once or twice per week.
When she moved here she had done GCSE French at school, and that was it, probably like many of us. I asked Céline today what level of French Carolyn had progressed to with her hard work and dedication. She scored her at a B1/2 now which is Intermediate/ Upper Intermediate.
Alpine French School will be starting their next Weekly French Lessons for Winter 2019 on 8th January 2019 and French Intensive Course beginning of June 2019.
Did you know that if you are employed in France on a French contract, or you have a French registered business  you should be entitled to have some French lessons on a training budget where the cost is covered.
Please feel free to contact us if you have any questions on any of the courses or about a training budget.
---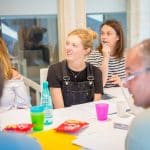 Have you been meaning to improve your French and not got around to it?  Or maybe you have tried before but not made the progress you wanted?  Maybe you are thinking of working towards your French citizenship and need to improve your French?  Or perhaps speaking better French would help…
Continue Reading
---
---
---
---