Alpine French School wins 2019 excellence award
Winning an award – what a great start to the summer season!
What better way to start the summer here at Alpine French School than with the news that we've been given an award! We were thrilled to hear that because of the consistently good reviews that you've been giving us, LanguageCourse.Net has decided to award us their 2019 excellence award. It's fantastic news as we head into one of our busiest months of the year. We're in the middle of our French intensive courses, our French Summer Camp is about to start and we're preparing for things to get really busy!
Who is LanguageCourse.Net?
LanguageCourse.Net is a worldwide company that brings together language schools and their courses so that students can search around for the course that best suits them. They collate thousands of reviews from students each year and give their schools a rating. The better your reviews, the higher your ratings! There are 12745 courses listed on the site which includes our French summer school, French intensive courses and our weekly group classes. The website takes courses from over 457 countries around the world so it really does give students a complete overview of what's available. It's important to stand out from the crowd with a good rating, so this award is great for Alpine French School.
Why did we get the award?
The award is to honor schools which provide outstanding services for their students. LanguageCourse.Net reads all of the reviews that you write for us and then decide which schools to recognise. We were thrilled when they choose to recognise us. They also get students to give a star rating and those schools which maintain a high star rating are eligible for the award.
Here is the type of review that lead to us getting the fantastic recognition:
Elena- Russia
"People who were very welcoming, helpful, attentive and very competent. Greetings to my teacher, Emilie!"
What does it mean for Alpine French School?
This award just helps us stand out from the crowd and gives new and returning students the confidence to book with us thanks to your amazing and consistent reviews. It's also a great and positive way to start the new term!
What courses do we offer on LanguageCourse.Net
Most of our courses appear on the website. We list all of our different French Intensive Courses including weekly and mini winter intensives. We also list our private class availability and the lessons that we run in Chatel and Samoëns. The listings aren't just reserved for adult classes either, we have our French summer camps on languagecourse.Net too. You'll also be able to find more information on our French and activity courses. We run courses such as French and mountain biking, French and ski or snowboard and also French and hiking as well. It gives new students the chance to get an overview of exactly what we offer and why they should choose to come to Morzine to learn French.
---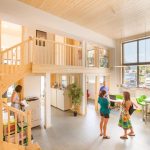 Did you book onto an intensive winter course at our school in Morzine? Well lucky you! During our lessons, we like to focus on conversation, which is complemented by those pesky grammar points and comprehension, but the ultimate goal is to get you to be able to communicate with French…
Continue Reading
---
---
---
---