Alpine French School offers both French and English courses.  We take pride in our staff and the quality of our teaching in both languages.  Your lessons will be taught by a native speaker of the language you are learning.  Our management and reservations team are also teachers so we can help you with any questions you have about your lessons when you book with us.  We all speak several languages in order to help students of different nationalities.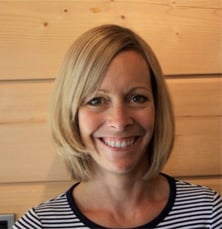 Helen (Director & English teacher)
A language professional, offering a wealth of experience in language teaching and translation.
I am bilingual English-French, having learned French from a young age and continued to gain a degree in European Studies specialising in French. After falling in love with France and the Rhône Alpes region, I decided to stay and have been living in the region ever since. For the last 14 years, I have lived in the Morzine area which is a truly beautiful part of France with mountains, lakes, picturesque towns and also close to Switzerland and only an hour from Geneva airport.
Since living in France, I have owned and managed several businesses and have thus gained a knowledge and insight into the French way of life and administrative system.
I started teaching English when I was at university and continued to do so in Morzine when I moved to the area. I also worked at International House language school in Geneva where I gained a wealth of experience about teaching and managing a language school. However, my heart was in the mountains so I returned to Morzine to expand Lost In Translation which has now become Alpine French School. We are now a team of 7 permanent teachers plus we have extra teachers and 'animateurs' who we call on when we need extra hands. We all enjoy meeting and teaching our students, who come both from the local area and further afield. They all fall in love with the beautiful scenery and our conversational, interactive style of teaching with small groups so that it doesn't feel like being back at school! We encourage our students to speak French as much as possible during their lessons and we strive to make our lessons enjoyable as well as effective, by adapting programmes to suit the needs, level, interests and objectives of each group.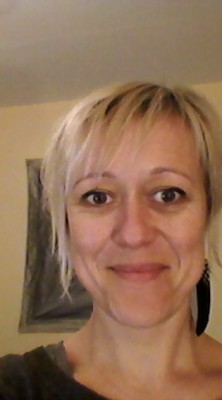 Christelle (Director of Studies & French Teacher)
I feel like sharing a little of my background first because like most of us, I think it's nice to know about people's backgrounds. I did a degree in English at Rouen University and then fell in love with England, where I lived for 8 years. I qualified as a teacher in the UK and taught French both in Norfolk and near Brighton. I've always loved making my lessons as fun as possible (not always an easy task if you see what I mean!) and giving back students their responsibility for learning.
I then put my career on hold and travelled for 7 years. I had all the time in the world to explore human nature and reconnect with dancing. I have now created my way of combining well-being and dance and hold weekly sessions in Thonon.
Working for Alpine French School is an ongoing adventure as a teacher due to the diversity of students' backgrounds, expectations and learning abilities. The team is like a small family here and our common point is that we like to have a good laugh! My philosophy as a teacher is that everybody should be taught in a way which makes them feel comfortable and which visibly enhances their progress as much as their confidence. I enjoy creating tailor-made lessons adapted to you and also making the lessons very practical so that what you learn is ready and easy to use. Be prepared to have fun with kinesthetic games where you have visual support to play with, working with French humorists and French films!
I specialise in teaching higher levels, professional/business French and DELF exam classes.  When I'm not teaching, I supervise our teachers and the content of our courses and keep up to date with new teaching ideas to keep our courses current and innovative.
This part of the world makes me feel very privileged and I just love seeing the beauty of our mountains everyday. I have a lovely crazy dog who can't get enough snow balls to catch and a cute happy cat! I have just started sewing (something I have been willing to do for a long time!) and am enjoying coming to grips with needles and thread.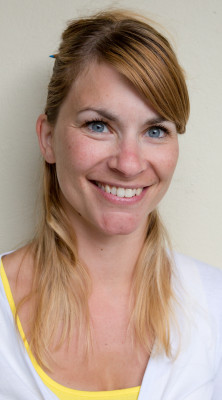 Deborah (Reservations Manager and French Teacher)
I come from Paris and I'm one of the French tutors here in Morzine. I've been living and teaching in this valley since 2010. Previously to that, I lived in the south of England for 12 years where I worked for a French immersion centre for UK schools based in Normandy and I've also worked for language summer schools in London. When it comes to my job, I love helping people to communicate better, and giving them the tools they need to understand and be understood. My 'forté' is making grammar easy to understand! When things suddenly make sense to them, it's a real treat and even more rewarding when they become confident making sentences and chatting away.
Living here in the Alps is a real change of scenery and you just don't get tired of the outdoor lifestyle. And when our students come and see us, they enter a big bubble of fresh air where they can forget everything for a week and embrace the mountain lifestyle, landscape and culture. We look forward to having you over soon!
I am now in charge of reservations so I will probably speak to you when you book your course with us!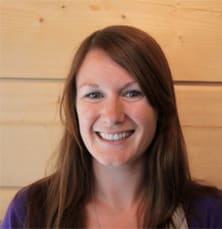 Sarah (English Teacher)
My relationship with Alpine French School started when I was a student here having French lessons a few years ago. I loved the lessons and enjoyed the fun and friendly atmosphere. Shortly after that I took my CELTA qualifications in Cheltenham in the UK, near to where I grew up, and became a teacher of English as a foreign language. My first teaching role was with Alpine French School. I studied English Literature at University, and I've always loved the way language works and the effect it can have on all aspects of daily life. I took French A-level at school, so I had a good base of the language when I moved to France, but like most people I have struggled when communicating with locals and I'm continuing with my French lessons except for now my teachers are also my colleagues!
I love snowboarding (it's the reason I first came to Morzine!), mountain biking in the summer, jogging and recently I've started doing yoga. I also run a property management company and enjoy the diversity of two very different jobs.
Most of my students are French people learning English and I tend to have one-to one lessons or small groups, which means I can really get to know my students and discover their motivations for learning English. I love the personal nature of teaching and watching my students progress and gain confidence.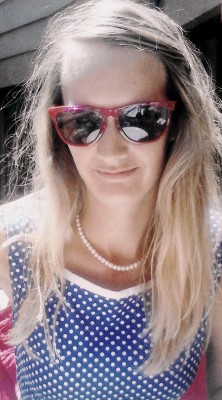 Jenny (French & English teacher)
I grew up here in the Alps, in the "Vallée du Giffre".
At 19, I moved to London to see what life was like on the other side of the Channel, and ended up staying there for the best part of 10 years. I worked in pubs, admin roles, and finally when my English got good enough, moved into teaching English as a foreign language. I really love the rapport with students, and the instant reward I get when they "get it!" I've always liked languages and understanding how they work so this is pretty much the perfect job for me! I came back to France in 2013, after contracting in India for a bit and developing my French teaching, and I've now decided to stick around here, re-join with my family, and get back to hobbies I'd left behind like snowboarding, horse-riding and motor biking.
I teach French in both Samoëns and Morzine for all levels from beginner to advanced, group courses, intensives and privates.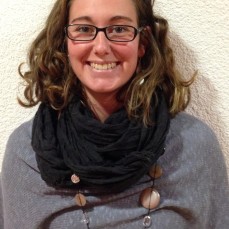 Lucile (French teacher)
When I was young I wasn't very academic. One day my parents asked what I wanted to do when I was older and I replied 'be a professional traveller' which wasn't a real career in their eyes! However I understood that being able to speak different languages would open up many opportunities to me. So I did a Masters in English and travelled a lot: from Burkina Faso to the USA, via Nepal, Turkey, French Guiana….by foot, bike, bus, horse-back? (no, not yet!). It was only when I left France that I realised how rich our culture is and that I was keen to share it with others. Teaching French just came naturally as a result; teaching includes talking, sharing, asking and answering questions, sometimes tearing your hair out, but also with a lot of laughter and at the end of the day the smile on a student's face when they suddenly get it is what pushes me to keep teaching and teaching well! I love the challenge of constantly finding the best way of making learning easy, giving confidence to students and accompanying students throughout their learning. When I'm not in class or travelling, I'm in the mountains, on my bike, on my skis or under my paraglider!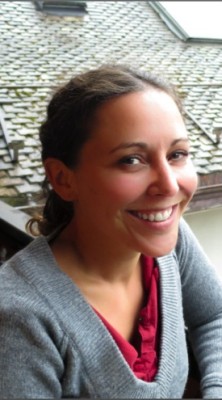 Anaïs (French & English teacher)
Aged 14, I was quite nervous to move from rural France to London with my parents. Four years later, fully bilingual, at university in Edinburgh I had discovered a passion for community theatre and teaching drama. Later I realized I could use those skills to teach English as a foreign language and completed my CELTA. A twist of fate took me from Edinburgh to Seville where I taught English for the next six years to students of all ages and picked up Spanish. A chance meeting with an English die-hard snowboarder brought me back to France and the Alps. Despite only ever skied at aged 14, I fully embraced the mountain life. It also made sense to use my teaching skills to teach my mother tongue.
I am passionate about taking students on a learning journey and thrive on intercultural exchanges. I am always keen to improve my teaching skills and try to make my classes fun, enjoyable, motivating and relevant. I try to use different media such as music, short films, and animations and encourage conversations and games for all ages.
In my spare time I love skiing and snowboarding in winter, climbing, cycling and hiking in the summer. It's great to work for the Alpine French School and combine all these passions with my love for teaching.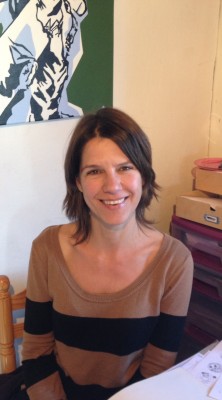 Annemarie (English and Dutch teacher)
I trained in the Netherlands as a primary school teacher, but as I have always been interested in travelling, meeting people and learning about other cultures, I chose to do part of my training in England and finished my B.Ed in the United States, doing research for 3 months to write my dissertation.
I always wanted to go to Africa, so after having worked as a primary teacher for 3 years I applied for VSO. I got a placement in Uganda. This was a great experience and I learned a lot from it! Most other volunteers were English, we had a great time together. I loved taking part in the English culture (like drinking yourself into oblivion and then Sunday morning hung over newspaper reading…). After reading Bridget Jones, I wanted to move to London and go into PR!
Move to London I did, but change career I didn't. I carried on my primary teaching in London for a year when I felt ready for a change again; after travelling through South America I went to Barcelona and did a TEFL course. I taught English as a foreign language there which I really enjoyed, but unfortunately my partner couldn't get a job there. Back to the UK (Manchester this time) for more primary teaching, but we took long breaks to go travelling.
Finally the Manchester weather made us crack and decide to move to a sunnier place.
Starting to have French lessons made me realise how I missed teaching English; it's great to give someone the ability to communicate across and mix with other cultures. I love seeing people progress and play interactive games. It's always a challenge to find out people's learning styles and what suits them best.
We wanted to do a ski season here, but love it so much we're staying! We think it's time to settle (for a bit) and we couldn't have done it in a better place. We have 2 children now and the oldest, who is 4, is loving the skiing in winter and swimming in the lakes in summer. As do we!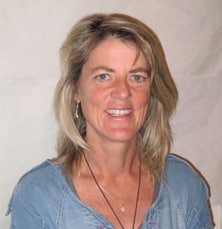 Karen
I was born in Leeds but lived in Canada and New Zealand as a kid. I obtained an Honours degree in English Studies at the University of Nottingham some way back at the end of the 1980s, and then moved to France in 1990. After various interesting work experiences and some less interesting, I started teaching English in Brittany. This quickly took off in primary schools, secondary schools and businesses. Somehow along the way I managed to fit in a teacher training course in Aberystwyth and become bilingual (English-French). I use methods based on "the Multiple Intelligence Theory" and "Accelerated Learning Techniques" which really do seem to work. Eight years ago I changed the sea for the mountain and moved into the wonderful "Portes de Soleil" region. I've worked for various ski schools and three years ago I was lucky enough to bump into Helen and her team. I enjoy working with Alpine French School as enthusiasm, variety, liberty are key words that tie in completely with my personality. We learn so much better when we have fun…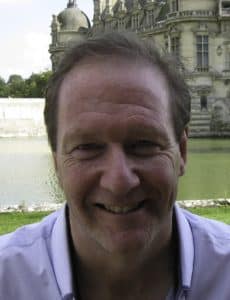 Chris (Teacher & Director of our Junior Summer Camp)
I was so very fortunate to grow in up in a bilingual family and from a very early age my life was divided between the UK & France. I have been teaching French and English on and off since 1982 in England, France, Italy and Germany. I also had the opportunity to work for several years in Teacher Training. More recently, I have been working for the Regional Council in Picardy where I was in charge of the Regional International Mobility Programmes and then as a Director in the Graduate Business School in Amiens. I hold Bachelor degrees in French, English and Physical Education in addition to a Master's Degree in Educational Management.
I have been a fully qualified Director of French holiday centres since 1987 and also regularly manage Training Courses for prospective Directors. I know Morzine very well. I have been skiing in the valley since 1985 and was Director of a Summer Holiday Centre in Morzine from 1990-2003.
I first became enchanted by the mountains when I was just 16 and I have recently realised a lifelong ambition and moved to Haute Savoie. I feel really privileged to work at the Alpine French School and to share my passion for languages and for the mountains with the students. Learning another language is a lot more than simply learning new words or expressions. It opens a door to the discovery of a different culture, another way of life and to seeing things from newfound perspectives. The challenge in teaching is meeting student's needs, instilling confidence and accompanying their learning by transforming lessons into a stimulating and fun experience.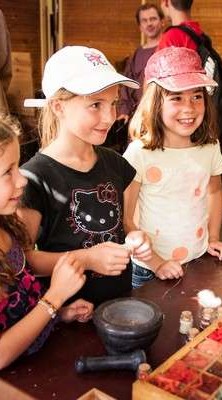 Jennie (Activity Leader Summer Camp)
I'm 19 and I have been working as an activity leader for the last 2 years which I love!  I learnt English at school and I have been to England several times to London and to Cambridge.  I love English and working in children's entertainment in summer camps!

Boris (French Teacher)
Boris lives in the South of France most of the year.  He comes to join the Alpine French School team in the winter so that he can go snowboarding which is a real passion of his!  Boris has been a French language teacher for almost all of his life and his lessons are fun, effective and he loves sharing his love of the language and culture with his students.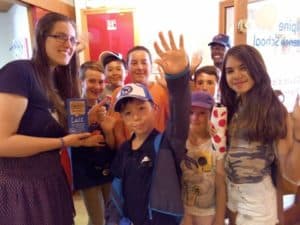 Justine (French Teacher & Admin Assistant)