Alpine French School offers both French and English courses.  We take pride in our staff and the quality of our teaching in both languages.  Your lessons will be taught by a native speaker of the language you are learning.  Our management and reservations team are also teachers so we can help you with any questions you have about your lessons when you book with us.  We all speak several languages in order to help students of different nationalities.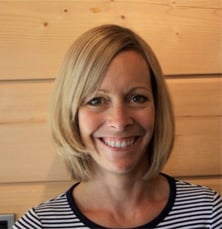 Helen (Director & English teacher)
A language professional, offering a wealth of experience in language teaching and translation.
I am bilingual and dual nationality English-French, having learned French from a young age and continued to gain a degree in European Studies specialising in French. After falling in love with France and the Rhône Alpes region, I decided to stay and have been living in the region ever since. For the last 14 years, I have lived in the Morzine area which is a truly beautiful part of France with mountains, lakes, picturesque towns and also close to Switzerland and only an hour from Geneva airport.
Since living in France, I have owned and managed several businesses and have thus gained a knowledge and insight into the French way of life and administrative system.
I started teaching English when I was at university and continued to do so in Morzine when I moved to the area. I also worked at International House language school in Geneva where I gained a wealth of experience about teaching and managing a language school. However, my heart was in the mountains so I returned to Morzine to expand Lost In Translation which has now become Alpine French School. We are now a team of 7 permanent teachers plus we have extra teachers and 'animateurs' who we call on when we need extra hands. We all enjoy meeting and teaching our students, who come both from the local area and further afield. They all fall in love with the beautiful scenery and our conversational, interactive style of teaching with small groups so that it doesn't feel like being back at school! We encourage our students to speak French as much as possible during their lessons and we strive to make our lessons enjoyable as well as effective, by adapting programmes to suit the needs, level, interests and objectives of each group.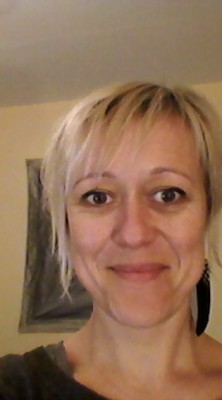 Christelle (Co-Director, Director of Studies & Junior Camp Director)
I feel like sharing a little of my background first because like most of us, I think it's nice to know about people's backgrounds. I did a degree in English at Rouen University and then fell in love with England, where I lived for 8 years. I qualified as a teacher in the UK and taught French both in Norfolk and near Brighton. I've always loved making my lessons as fun as possible (not always an easy task if you see what I mean!) and giving back students their responsibility for learning.
I then put my career on hold and travelled for 7 years. I had all the time in the world to explore human nature and reconnect with dancing. I have now created my way of combining well-being and dance and hold weekly sessions in Thonon.
Working for Alpine French School is an ongoing adventure as a teacher due to the diversity of students' backgrounds, expectations and learning abilities. The team is like a small family here and our common point is that we like to have a good laugh! My philosophy as a teacher is that everybody should be taught in a way which makes them feel comfortable and which visibly enhances their progress as much as their confidence. I enjoy creating tailor-made lessons adapted to you and also making the lessons very practical so that what you learn is ready and easy to use. Be prepared to have fun with kinesthetic games where you have visual support to play with, working with French humorists and French films!
I specialise in teaching higher levels, professional/business French and DELF exam classes.  When I'm not teaching, I supervise our teachers and the content of our courses and keep up to date with new teaching ideas to keep our courses current and innovative.
This part of the world makes me feel very privileged and I just love seeing the beauty of our mountains everyday. I have a lovely crazy dog who can't get enough snow balls to catch and a cute happy cat! I have just started sewing (something I have been willing to do for a long time!) and am enjoying coming to grips with needles and thread.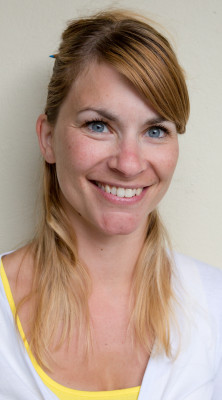 Deborah (Co-Director, Training Budgets Manager & Company Accountant)
I come from Paris and I'm one of the French tutors here in Morzine. I've been living and teaching in this valley since 2010. Previously to that, I lived in the south of England for 12 years where I worked for a French immersion centre for UK schools based in Normandy and I've also worked for language summer schools in London. When it comes to my job, I love helping people to communicate better, and giving them the tools they need to understand and be understood. My 'forté' is making grammar easy to understand! When things suddenly make sense to them, it's a real treat and even more rewarding when they become confident making sentences and chatting away.
Living here in the Alps is a real change of scenery and you just don't get tired of the outdoor lifestyle. And when our students come and see us, they enter a big bubble of fresh air where they can forget everything for a week and embrace the mountain lifestyle, landscape and culture. We look forward to having you over soon!
I am now in charge of reservations so I will probably speak to you when you book your course with us!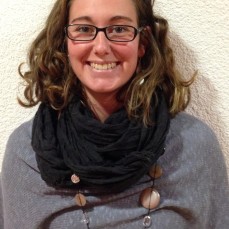 Lucile (French teacher)
When I was young I wasn't very academic. One day my parents asked what I wanted to do when I was older and I replied 'be a professional traveller' which wasn't a real career in their eyes! However I understood that being able to speak different languages would open up many opportunities to me. So I did a Masters in English and travelled a lot: from Burkina Faso to the USA, via Nepal, Turkey, French Guiana….by foot, bike, bus, horse-back? (no, not yet!). It was only when I left France that I realised how rich our culture is and that I was keen to share it with others. Teaching French just came naturally as a result; teaching includes talking, sharing, asking and answering questions, sometimes tearing your hair out, but also with a lot of laughter and at the end of the day the smile on a student's face when they suddenly get it is what pushes me to keep teaching and teaching well! I love the challenge of constantly finding the best way of making learning easy, giving confidence to students and accompanying students throughout their learning. When I'm not in class or travelling, I'm in the mountains, on my bike, on my skis or under my paraglider!
Céline (French Teacher)
Originally from Laval, in the northwest of France, I studied English at the University of Angers. Like many others, I decided to move to the UK for one year to broaden my knowledge of the English language. I fell in love with England and English people, and I ended up living in Manchester for fifteen years. I taught in a secondary school in Cheshire for thirteen of those years. I started there as a Newly Qualified Teacher and I spent the last five years as the Curriculum Leader for French. I found those years to be extremely precious to me and I am proud of all my accomplishments during that time. Life in Manchester was very happy for me and it holds a huge place in my heart (apparently I have even adopted the Mancunian accent!). My partner and I decided to take a year out to undertake a renovation project in the area and to provide me with an opportunity to complete my Masters in Education. However, after a year spent here in the Portes du Soleil, we decided to make it a permanent move. We feel so at home in this beautiful part of France. I am immensely happy to be part of the Alpine French School team as it allows me to continue working within my profession in fantastic surroundings. I enjoy teaching all ages and levels but my 'speciality' would obviously be in preparing pupils for their GCSE, due to my background. My goal as a teacher is to make a difference for each of the students that I teach, whether I improve their grammar, pronunciation or their confidence, and to ensure they feel successful in their language learning endeavours. Ultimately, I want them to fall in love with this beautiful country and its rich culture, just as I did with the U.K.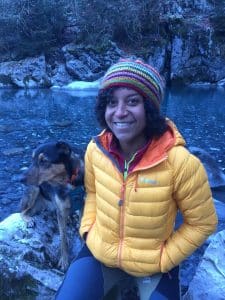 Emilie (French Teacher)
I grew up on the French overseas department of La Réunion in the Indian ocean, speaking both French and Creole and enjoying the mix of ocean and mountains. After studying English at university I moved to the UK and lived in various regions to improve my language skills. The Devon accent wasn't the easiest to grasp but I very quickly grew to love it! It was in the UK where I first joined the world of education, working as a TA in a school SEN (Special Educational Needs) department. I completed a PGCE in Modern Foreign Languages in 2009, and after this I taught French at a community college in Mid Devon where I continued to develop a variety of teaching styles and methods.
Wanting to return to the mountains, I moved to the Haute-Savoie, where I have now been working for the Alpine French School for 2 years. It is a lovely environment where I enjoy teaching adults from all over the world, finding it very rewarding to see how quickly people develop when motivated and immersed in the language and culture.
Moving around a lot has made me appreciate how important learning a language is
to integration. While I feel correct grammar is a good goal to aim for, I prefer to focus on oral communication and simplify French to allow students to get by and feel confident enough to interact with people.
When I am not working you'll find me walking or running in the mountains with my husband and dog.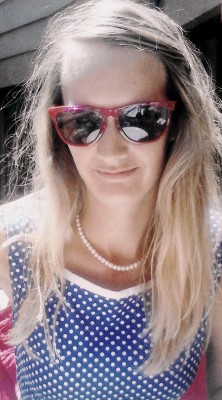 Jenny (French & English teacher)
I grew up here in the Alps, in the "Vallée du Giffre".
At 19, I moved to London to see what life was like on the other side of the Channel, and ended up staying there for the best part of 10 years. I worked in pubs, admin roles, and finally when my English got good enough, moved into teaching English as a foreign language. I really love the rapport with students, and the instant reward I get when they "get it!" I've always liked languages and understanding how they work so this is pretty much the perfect job for me! I came back to France in 2013, after contracting in India for a bit and developing my French teaching, and I've now decided to stick around here, re-join with my family, and get back to hobbies I'd left behind like snowboarding, horse-riding and motor biking.
I teach French in both Samoëns and Morzine for all levels from beginner to advanced, group courses, intensives and privates.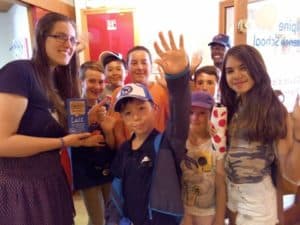 Justine (French Teacher)
I grew up in the north of France before my family decided to move to Haute-Savoie, in a lovely region surrounded by mountains and Lake Geneva.
I've always had a passion for drawing and for a time my dream was to become an artist, which, as it turns out, isn't a goal as easy to achieve as you would think!
So I turned to my second passion which was the French language. I studied French language and literature for three years at the University of Grenoble until I discovered that teaching French as a foreign language was something I could actually do! I then started volunteering to give french lessons to migrants who lived in Grenoble. This was an incredible experience for me and it made me realise that becoming a teacher was what I was meant to do.
I discovered Alpine French School when I was searching for an internship during my 5th year of University. Being now part of the AFS team is an adventure I'm really grateful to be a part of!
I try to make my lessons as fun and accessible as possible to give my students the confidence to speak french in a relaxed and comfortable atmosphere.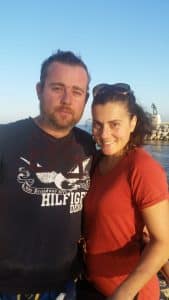 Carol (French Teacher & Host Family)
If you need any tips about our lovely region, just ask me!
I arrived here on 2001 (long time ago) to follow my partner (a real local one!). But by this time, I wanted to continue my study and also discover the world, so he followed me and we passed our Master in the Pyrénées (management in the tourism industry) and then travelled and worked in Europe and North America.
In 2009 we decided to have our own business and this time I followed my partner and we opened a restaurant in Les Gets. We run it for 5 years. It makes me realize how beautiful Morzine-Les Gets is and how lucky we are to be here. So we decided to stay here to raise our children!
I was looking for an interesting job in the surroundings and thought of Alpine French School. I love meeting people, sharing experience, learning so why not teaching my beautiful mother tongue. I'm currently training to pass the diploma of the Alliance Française to teach French. I am always happy to talk with our students, to know why they want to learn French and to advise them on what to do here!  I work as a host family, looking after our students who stay in our family home.  I also organise cultural and social activities for our students.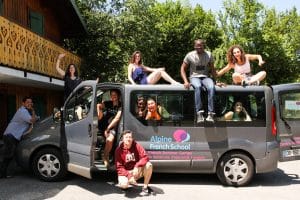 Our French Summer Camp Staff
Christelle and Jean-Brice are our French Summer Camp Directors for 2019.  Jean-Brice is the Director for our French Residential Summer Camp and Christelle is the Director for our French Day Summer Camp.  With the help of the activity leaders (Loic, Victor, Karl & Roberto just to name a few) and our French Summer Camp Teachers (Céline, Anaïs, Chloé, Amy, Morgane, Katja, Helen & Roberto) they work hard to coordinate our French Summer Camp in France and to ensure the happiness and well-being of all our our students!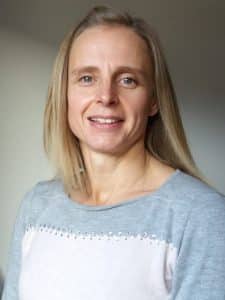 Annelie: Reservations Assistant
I studied law at Sheffield University and then at Nottingham Law School. After working as a solicitor in London for 7 years I decided that I wasn't ready to settle for life in the fast lane so I took some time off to travel in the mountains of Canada, South America, New Zealand and Nepal. Returning to London a year later I still had itchy feet, so after a short time back working in the law in London and a new baby, my partner and I decided to continue our desire to be in the mountains and moved to Morzine.
That was 8 years ago and we are now firmly settled here with 2 children who attend the local school and are bilingual – lucky them! I am not so lucky, but after taking many group and private lessons with Alpine French School, I am finally finding my way with the language which I love.
I now work as part of the reservations team at Alpine French School. I love speaking to students about the area and helping them to choose the right course for them. I also get the opportunity to practise French with the teachers around the School which is great fun!
The local area is beautiful and there are so many activities for adults and children to do. In the winter, I love to ski and explore the mountains on touring skis. In summer, I enjoy road cycling and swimming in the clear mountain lakes or in Morzine's beautiful outdoor pool. I have recently taken up hill running which is an excellent way of exploring the local peaks – with endless trials there are always new routes to explore year round. On less energetic days, I enjoy catching up with friends with a coffee on a café terrace soaking up the sun and the magnificent views or taking a gentle walk around the river. There's always something to do!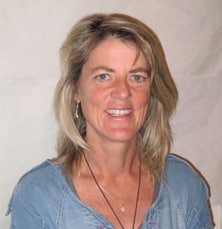 Karen (English & French Teacher)
I was born in Leeds but lived in Canada and New Zealand as a kid. I obtained an Honours degree in English Studies at the University of Nottingham some way back at the end of the 1980s, and then moved to France in 1990. After various interesting work experiences and some less interesting, I started teaching English in Brittany. This quickly took off in primary schools, secondary schools and businesses. Somehow along the way I managed to fit in a teacher training course in Aberystwyth and become bilingual (English-French). I use methods based on "the Multiple Intelligence Theory" and "Accelerated Learning Techniques" which really do seem to work. Eight years ago I changed the sea for the mountain and moved into the wonderful "Portes de Soleil" region. I've worked for various ski schools and three years ago I was lucky enough to bump into Helen and her team. I enjoy working with Alpine French School as enthusiasm, variety, liberty are key words that tie in completely with my personality. We learn so much better when we have fun…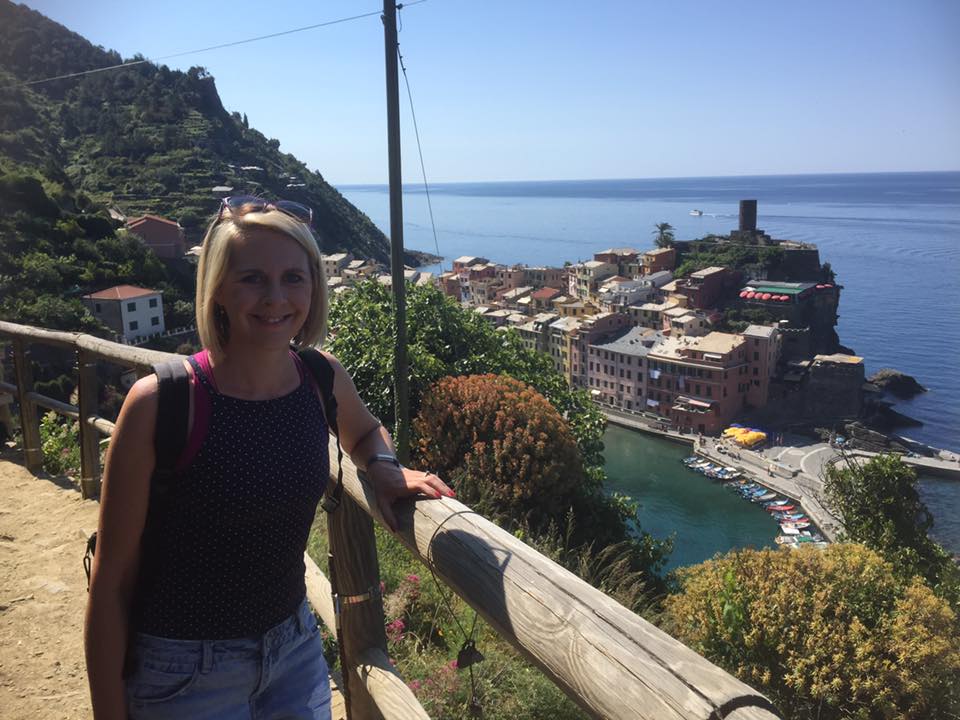 Liz (English Teacher)
Having always been a bit nerdy, with a love of literature and a keen eye for grammar, it was probably unavoidable that I would go on to study English.  In 2005, having graduated from The University of Birmingham with an Honours degree in English Language and Literature, I was slightly bereft at the idea of having to give up studying, and so, I decided that teaching would be the next best thing.  I embarked upon the Graduate Teacher Programme in order to qualify as a secondary school English teacher.
From 2007, I worked in UK secondary schools as a teacher of Key stage 3, GCSE, and A Level English Language and Literature, as well as delivering staff training on teaching and learning strategies, and A Level teaching methods.  Despite having a real passion for teaching, I was yearning for a change and that change came in the form of my husband: an avid snowboarder with a desire to move to the French Alps.  In 2014 I packed up my worldly goods and moved to Morzine in order to embark on a new career path: running a catered chalet with my husband.  During my second winter season, I decided that it was essential to try to learn French (having never studied it at school), and so I embarked upon lessons at Alpine French School.  The teaching that I received reignited my love of teaching and learning, as well as improving my level of French.  After three successful seasons, we decided to close the doors of our chalet and it felt natural for me to return to teaching, albeit in a new context.
I now feel as if I have the best of both worlds: pursuing the career and subject for which I have always felt a passion, while getting to live in the most amazing place.  When not teaching, I am usually found reading, hiking, running, or touring around Europe sampling all the bread and cheese that I can find.
Louise (English Teacher)
I was born and raised in Perth, Scotland by Scottish parents where sport, music and horses dominated my childhood.
After leaving school I studied at Dunfermline College Of Physical Education where I gained my B.Ed (Hons) teaching degree in 1986.
I then had a desire to see the world for a couple of years before settling down into a "proper job" so I joined British Airways as a member of its longhaul cabin crew.
23 years later I left the airline with trepidation of what to do next!
Having lived in Morzine for a number of years with my husband and daughter, I then found myself working for a ski school for 3 years.
An opportunity was then offered to me as an assistant English teacher in Thonon-les Bains at the lycee hotelier Savoie Leman and I found myself falling in love with teaching again after all these years.
When I saw an opportunity to join Helen and her team I launched into action and haven't looked back since.
I feel very fortunate to be able to teach English in a beautiful environment and with such a great team.
When not working you will find me either in a swimming pool, up a mountain hiking with my dog or playing my violin.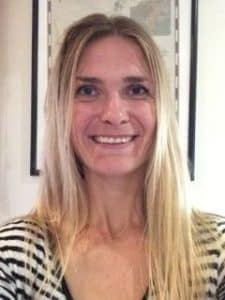 Natalie (English Teacher)
Initially I did a CELTA course (Cambridge English Language Teaching to Adults) as I wanted to travel after university and be able to pay my way.  After teaching in Australia and the Czech Republic I returned to the UK thinking I'd satisfied the travel bug.  Five years later, after completing an MSc in Policy Studies and settling down as a social researcher in Edinburgh, I discovered I still had itchy feet… I left Scotland to do a ski season in Savoie, near Bourg St Maurice.
After winter I travelled a while before settling down in Morzine where I discovered snow, mountains, white-water and breath-taking scenery – a year-round, outdoor paradise!  I have taught English  in Thonon les Bains, Annemasse and Evian les Bains, as well as for English.fr in Morzine.  Coming back to English teaching has been wonderful – learning French has opened my eyes to the challenges facing all language learners.  It has enabled me to identify far more with students' confidence issues and comprehension anxieties, as well as empathise with the inevitable feelings of frustration which surface when progress seems slower than we'd hoped for!  I feel incredibly lucky to have the opportunity to teach my first language and learn a second one, while living in the most beautiful surroundings I can imagine.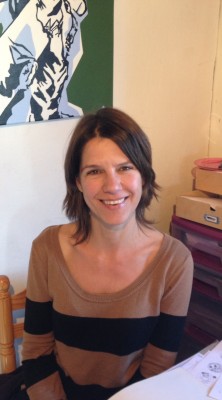 Annemarie (English and Dutch teacher)
I trained in the Netherlands as a primary school teacher, but as I have always been interested in travelling, meeting people and learning about other cultures, I chose to do part of my training in England and finished my B.Ed in the United States, doing research for 3 months to write my dissertation.
I always wanted to go to Africa, so after having worked as a primary teacher for 3 years I applied for VSO. I got a placement in Uganda. This was a great experience and I learned a lot from it! Most other volunteers were English, we had a great time together. I loved taking part in the English culture (like drinking yourself into oblivion and then Sunday morning hung over newspaper reading…). After reading Bridget Jones, I wanted to move to London and go into PR!
Move to London I did, but change career I didn't. I carried on my primary teaching in London for a year when I felt ready for a change again; after travelling through South America I went to Barcelona and did a TEFL course. I taught English as a foreign language there which I really enjoyed, but unfortunately my partner couldn't get a job there. Back to the UK (Manchester this time) for more primary teaching, but we took long breaks to go travelling.
Finally the Manchester weather made us crack and decide to move to a sunnier place.
Starting to have French lessons made me realise how I missed teaching English; it's great to give someone the ability to communicate across and mix with other cultures. I love seeing people progress and play interactive games. It's always a challenge to find out people's learning styles and what suits them best.
We wanted to do a ski season here, but love it so much we're staying! We think it's time to settle (for a bit) and we couldn't have done it in a better place. We have 2 children now and the oldest, who is 4, is loving the skiing in winter and swimming in the lakes in summer. As do we!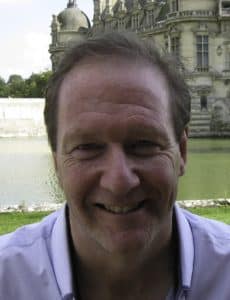 Chris (English Teacher)
I was so very fortunate to grow in up in a bilingual family and from a very early age my life was divided between the UK & France. I have been teaching French and English on and off since 1982 in England, France, Italy and Germany. I also had the opportunity to work for several years in Teacher Training. More recently, I worked for the Regional Council in Picardy where I was in charge of the Regional International Mobility Programme; as Director in the Graduate Business School in Amiens and for the French National Erasmus+ Agency and an Expert-Evaluator. I hold Bachelor degrees in French, English and Physical Education in addition to a Master's Degree in Educational Management. 
I first became enchanted by the mountains when I was just 16 and I have recently realised a lifelong ambition and moved to Haute Savoie. I feel really privileged to work at the Alpine French School and to share my passion for languages and for the mountains with the students. Learning another language is a lot more than simply learning new words or expressions. It opens a door to the discovery of a different culture, another way of life and to seeing things from newfound perspectives. The challenge in teaching is meeting student's needs, instilling confidence and accompanying their learning by transforming lessons into a stimulating and fun experience.