Concerned about the Coronavirus? Contact us to discuss our new FREE CANCELLATION POLICY & book with peace of mind Contact Us
Winter Group French Lessons 2018-9
If you are living in Morzine for the season and want to improve your French, then why not join our weekly group lessons?
Why choose Alpine French School?
Courses focus on speaking, pronunciation and listening skills
Native-speaker experienced, qualified, dynamic teachers
1h30 per week with plenty of time to practice in between lessons
All levels available from Beginner to Intermediate
Courses run for 10 weeks: see real progression
New modern premises in central Morzine
Teachers speak English in case of any difficulties understanding
Use of French in real-life situations
Small groups of 10 students maximum
Seasonnaire discounts available
Courses run from the 8th of January to the 28th of March 2018
Here are the different times according to levels: If you would love to enroll but times just don't fit your timetable, let us know and we will try to adapt the group times to suit your availability!
| | |
| --- | --- |
| Beginner | Tuesdays  11:30 – 13:00 |
| Elementary | Tuesdays  18:30 – 20:00 |
| Lower Intermediate | Thursdays 11:30 – 13:00 |
| Intermediate | Thursdays 11:30 – 13:00 |
The price is €280* set fee for the full course (just 28€ per 1.5 hour lesson including course materials and free wi-fi).
This course is ideal if you want to learn French at your own pace and around your working hours, but also have time to integrate and practice in-between. You will mainly expand your conversation ease and your vocabulary  as well as learn grammar and develop your listening skills and self-confidence.
We look forward to hearing from you!
How do I know my level?
Complete Beginner:
No French, may be a few greetings like 'Bonjour' and 'Merci'
Beginner:
You need to revise the basics such as introducing yourself, asking for things in shops but you also want to expand vocabulary, learn how to ask simple questions, use simple verbs in the present and say what you do on a regular basis .
Elementary
You need to practice how to put your sentences together and ask questions. You need to learn how to use most verbs in the present in more elaborated sentences and expand vocabulary.
You need to feel more confident with daily chit-chat.
Elementary+
You need to learn to express yourself in the past tense and expand your vocabulary
You need to reinforce the use of current but complex present tense.
You need to understand and start using specific French structures which are used to talk about your daily routine.
Lower intermediate
You want to speak in the future, in the past and present with confidence but you also need to learn more tenses as you struggle to say things such as 'he was running when I saw him..' 'I was watching telly whilst they were playing'.. You want to start using simple pronouns such as: You give me, I speak to you, etc…
Intermediate
You are comfortable speaking in all tenses but want to practice being more precise when talking about your life and also practice the intricacies of French language and expressions.
Upper Intermediate
You want to reach the next level and familiarize yourself with complex French language.
If you are not sure of your level, please don't hesitate to pop in to the school, email or call us:
Contact info@alpinefrenchschool.com or call 04 50 79 08 38.
*Plus 30€ enrollment fee valid for one year
---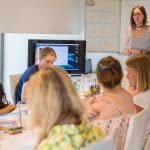 Most of us have more time in the autumn inter-season to do things like work on our French before the winter season.  Alpine French School is offering a range of courses to suit all levels, budgets and availability.  Read on for more information and don't hesitate to contact us by…
Continue Reading
---
---
---
---